50 years since Eisenhower Doctrine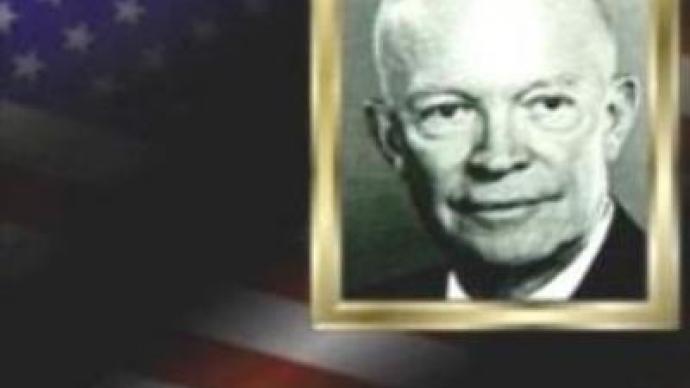 It's half a century since U.S. President Dwight Eisenhower implemented a new foreign policy for the Middle East. What became known as the Eisenhower Doctrine was aimed at combating Soviet encroachment into the Middle East.
Fifty years ago, at the peak of the Cold War, President Dwight Eisenhower introduced a new regional policy to combat Soviet expansionism in the Middle East. It promised military and economic aid to any Middle East state which needed it to combat communist aggression. The Doctrine, formulated by Secretary of State, John Foster Dulles, came as a direct result of the Suez Crisis of 1956.
"The most extraordinary statements that came out of the Suez Crisis were articulated by Eisenhower that I think represents his views on the subject. He said in a speech that as long as we have one rule for ourselves and our allies and one rule for everyone else there will never be peace. I personally suspect that the Eisenhower doctrine was not a departure from the policy that he had established but a way of ensuring that no country especially the communist countries could exploit the fact that he had stood up to his own allies,"
says Susan Eisenhower, President, Eisenhower Institute, Washington.Following the Suez Crisis, a period of particularly tense relations between the U.S. and the Soviet Union followed, with both superpowers attempting to strengthen their influence in the Middle East region. The granddaughter of President Eisenhower, says the stance was not a shift of U.S. policy.
"I don't think that the Eisenhower Doctrine was a shift in policy as much as it was an explanation of a policy. This is how frequently Doctrines come about, they are a kind of an organising principle. The allies have seen a roll back in that region and Eisenhower did not want the communists to exploit it. He wanted to see the capacity of the Arab countries in the Middle East to craft and independent policy,"
believes Susan Eisenhower.With the Middle East region possessing a large quantity of the world's oil supply, officially the U.S. feared it would suffer economic consequences if the area fell to the communists. Unofficially, the Doctrine also aimed to contain radical Arab nationalism, particularly of then Egyptian President Nasser, whom the West feared might establish Communist rule.Although the Eisenhower Doctrine was never formally invoked it was used to guide U.S. foreign policy in the Middle East for years to come. President Eisenhower's determination to strengthen Western control of the region and isolate Communist influence is still seen by many historians as a pretext for America's enduring involvement in Middle East affairs, which continues to this day.
You can share this story on social media: