Ukraine parliament votes to try ousted President Yanukovich & others in ICC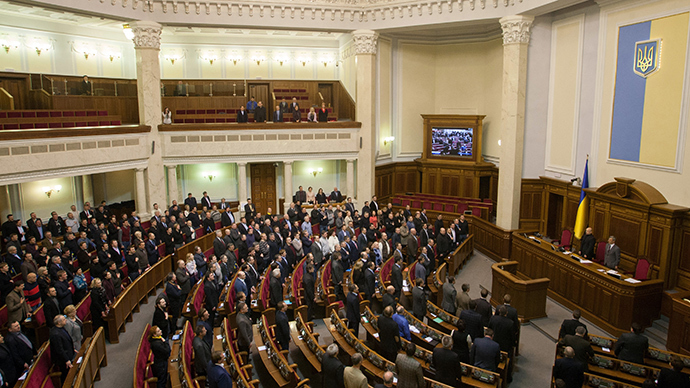 The Ukrainian parliament Verkhovna Rada has voted in favor of fugitive President Yanukovich being tried in the International Criminal Court (ICC) in The Hague for alleged "crimes against humanity during the recent peaceful protests."
Follow RT's LIVE UPDATES
Ex-Interior Minister Vitaly Zakharchenko and former Prosecutor General Viktor Pshonka are among those whom the Rada wants to be tried in the ICC.
All are accused of "crimes against humanity during the peaceful protests in the period of November 30, 2013, and February 22, 2014."
"During the period of three months the law enforcement agencies have been following the orders of the highest Ukrainian authorities. They used violence against the peaceful activists in Kiev and other Ukrainian cities," said a Rada statement.
"Over 100 Ukrainian citizens have been killed and 2,000 injured as a result of such actions," it added.
Three hundred and twenty-four MPs voted in favor of the resolution.
During the discussions the MPs also proposed to add the names of ex-deputy prime minister, ex-PM and ex-security council secretary. However the names were not approved by all the members of the Rada.
"The list will be extended with the names of those whose guilt is proven," added Turchinov.
The Hague war crimes court didn't confirm the information that Ukraine asked it to investigate the case of Yanukovich and other Ukrainian ex-ministers.
"A government can make a declaration accepting the court's jurisdiction for past events," said ICC spokesman Fadi El Abdallah, adding that the court's prosecutor would decide whether or not to open an investigation.
The three-month political crisis in Ukraine escalated last Tuesday, with radical opposition activists and riot police engaged in two days of clashes in Ukraine capital, Kiev.
The central Ukrainian government collapsed under opposition pressure and President Yanukovich left the capital and de facto resigned his office. His whereabouts are still unknown.
On Sunday the new parliament voted to appoint its freshly-elected Speaker Aleksandr Turchinov as acting president of Ukraine.
The new regime immediately voted to strip Yanukovich of his powers, capitalizing on his absence from the capital, and voted for snap elections which are to be held on May 25.
A day later, on Monday, Rada put President Yanukovich on the wanted list on suspicion of involvement in mass killings during the riots in Kiev.
Ukraine's parliament, the Verkhovna Rada, will next meet Thursday to discuss the formation of a national unity government – a debate originally scheduled for Tuesday.
"The vote on the national unity government should be on Thursday," said interim President Aleksandr Turchinov, adding that forming the government is the top task needed to stabilize the situation in Ukraine.
You can share this story on social media: