World Russian People's Council discusses poverty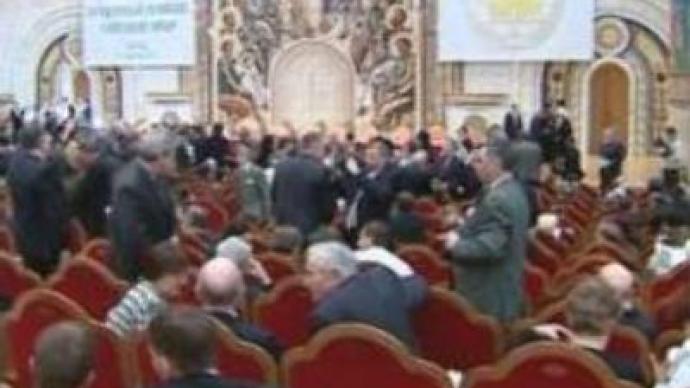 The World Russian People's Council has held its 11th annual conference in Moscow. About 1,700 delegates attended the opening ceremony chaired by the Patriarch of Moscow and All Russia Alexy II.
The 11th World Russian National Council has taken another step in the quest for national identity. This year poverty was the main topic. Alexy II said fighting poverty is a common task for the church, government and people of Russia. Almost 20 percent of Russians live below the poverty line. According to Metropolitan of Smolensk and Kaliningrad Kirill, ignoring this would be repeating a tragedy in Russian history.
"To overcome this disparity is a question of the country's survival. Such disproportions have led to revolutions and riots in the past,"
he believes.
"We have a rich country and poor people,"
noted Sergey Glazyev, the Russian State Duma deputy. With the collapse of the Soviet Union, Russians dismantled statues of Lenin together with Soviet slogans of social equality and justice for all. Survival of the fittest has become a motto of the new times, being rich – a fashion.In Russia they don't talk about their wealth but scream it, it has become one of the forms of self-expression. The recent millionaire fair in Moscow beat records with a bottle of perfume sold for $ US 35,000 and cell phone for $ US 1.2 MLN. Last year Russia became a leader in Bentley sales and took up all quotas for the Maybach, at 580,000 Euros each. But not everyone is able to fit in.
"Only a small part of society is getting richer. And it's getting richer so fast that is surprising the richest people in the world. It's a shame when the richest people of Russia are spending enormous amounts of money on entertainment while their compatriots are earning peanuts,"
said Metropolitan of Smolensk and Kaliningrad Kirill.The minimum wage in Russia is 1100 roubles or less than $US 30 a month. That is the average price of a salad in some Moscow restaurants. Feeding a child in an orphanage costs about $US 2, although few orphanages spend that much. The older generation is the most hard done by with the average pension about $ US 100 per month.
"If we compare the 10% of the richest with 10% of the poorest people in the country, the difference in incomes is up to 25 times. In Sweden it's 4 times, 6-7 times in the EU and 9 times in the U.S.,"
stressed Metropolitan of Smolensk and Kaliningrad Kirill. The participants of the Russian National council are not sure they will be able to find solutions, but hope asking the right questions will help. The Russian Orthodox Church believes the key solution is in spiritual values and that the shocking spread between the poor and the rich presents a clear and present danger to the integrity of the country.
You can share this story on social media: