World Bank estimate of 1 bln people in poverty 30% 'too low'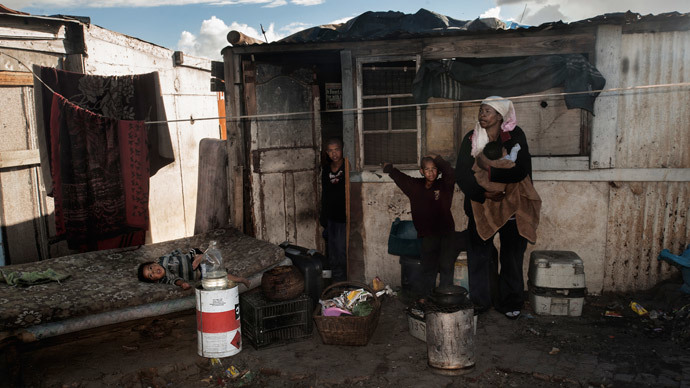 The current international poverty line of $1.25 per day used by the World Bank is "too low" and "artificial," say researchers from Bristol University, adding that the total number of poor people worldwide would increase by 30 percent in future.
The World Bank's "estimates are flawed" as the organization hasn't used "different poverty measures" and only explores one angle of the problem – financial, says the study, called "The mis-measurement of extreme global poverty: A case study in the Pacific Islands," published in Journal of Sociology.
"There is considerable controversy surrounding the 'dollar a day' measure used to monitor progress against the Millennium Development Goals," adds the research, which was carried out together with specialists at the Australian National University, UNICEF Pacific and the Economic and Social Research Council (ESRC).
"Thus, the tighter definition of poverty used by the World Bank tends to lead to a better-looking poverty trend, because the poverty line is too low the trend it reports is too rosy," adds the study.
The paper urges the World Bank to examine "non-monetary forms of disadvantage and deprivation for families, adults and children." Researchers looked deeper at those living on the Pacific island state of Vanuatu by taking into account shelter, sanitization, water, information, nutrition, health and education to build up a more comprehensive picture of poverty, deprivation and inequality.
"If the World Bank had, in fact, used a poverty line grounded in basic needs, rather than its present artificial one which only looks at one monetary measure, the total number of poor people in the world would increase substantially, perhaps by as much as 30 percent," says Christopher Deeming from University of Bristol in Britain, the author of the research paper.
According to the study, a much greater proportion, 17 percent, lives in poverty defined by the national food and basic needs poverty line, while 16 percent of children suffer from absolute poverty.
As defined by the international dollar a day measure "for Vanuatu as a whole, 5.4 percent of children are below the global poverty line," says the report.
Meanwhile, children in this region also suffer from "more severe" deprivations as significant proportions of the population under age 17 experience such problems as poor health (65 percent), information (55 percent), shelter (44 percent) and sanitation (38 percent).
"Methodologically, the results show that measurement issues are extremely important and that different approaches can have a substantial impact on the level of poverty and deprivation measured and identified," says the report.
The report also reacted to the target set by the World Bank for ending extreme poverty in the world within a generation, by 2030.