World Food Program running out of food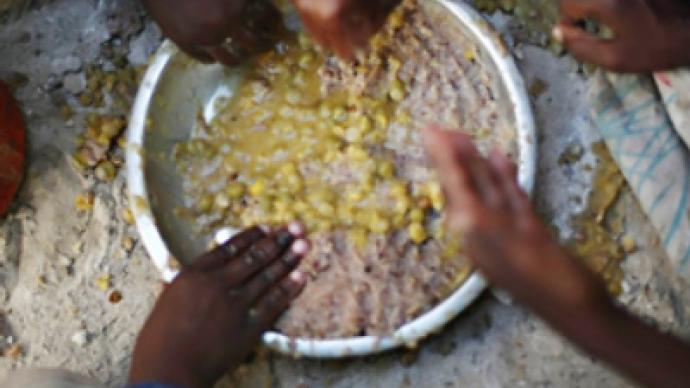 Rations aren't sumptuous parcels. But in October, some people's portions may be halved. Others may not receive theirs at all. The World Food Program's money problems could make the agency less capable when most needed.
A disastrous sets of circumstances have left poor people desperate. The rains haven't come. The crops didn't grow. The herds are dying. And, financial assistance from developed countries have dropped.
"Today in the United States and much of Europe, more people are relying on government safety nets for food and support than, perhaps, ever before," said Josette Sheeran, Director of the World Food Program (WFP). "But for 80 per cent of the world, there is no safety net."
The WFP is a global aid agency that supports the hungry who have no other means of assistance. But unfortunately, the agency, which is completely dependent upon donations, has only received about one-third of its $6.7 billion budget. This means that, although the number of hungry people is increasing, WFP's capabilities are shrinking.
We have already had to reduce rations to hundreds of thousands of people across southern Africa because of a lack of funds," said Mustapha Darboe, WFP Regional Director for Southern, Eastern and Central Africa. "Without new donations, we will soon have to make even harder decisions and make even deeper cuts."
Richard Lee, a WFP Spokesperson for Southern Africa, says that in Central Namibia, refugees are already being forced to survive on rations that no longer meet their basic nutritional needs.
If WFP does not quickly receive additional funding, it will have no choice but to cut more rations in places such as Guatemala and Kenya.
In arid, drought affected regions in Kenya, current monthly rations consist of approximately ten kilograms (kgs) of cereals, less than two kgs of pulses and corn-soya porridge, and a fraction of a kg of cooking oil and salt. People in semi-arid regions receive less.
If finances remain as they are, these portions will have to be reduced in a week. Furthermore, expanding the reach to help those who are not currently receiving aid may be impossible.
Issuing a desperate appeal for $3 billion, Sheeran points out that the money the agency needs to feed the hungry is only a fraction of what has been invested in stabilizing the world financially.
The effects of this looming food shortage threaten the world with far reaching, long-term consequences. Without proper nourishment, populations become less productive and more reliant on all sorts of aid. Efforts to combat and control HIV/AIDS will be set back. Pregnancy and breastfeeding will become problematic. And, children will suffer irreversible effects.
Recognizing the severity of the situation, singer Christina Aguilera has expressed her commitment to helping WFP raise funds to proceed with their missions.
Following a recent visit to Guatemala to witness the problems first-hand, Aguilera said, "One of the biggest lessons I'm taking away from this trip is the importance of healthy food. If a child under two doesn't get the nutrients he or she needs, we can never fix the damage later on."
Michelle Smith for RT
You can share this story on social media: