World Bank's President admits promoting female colleague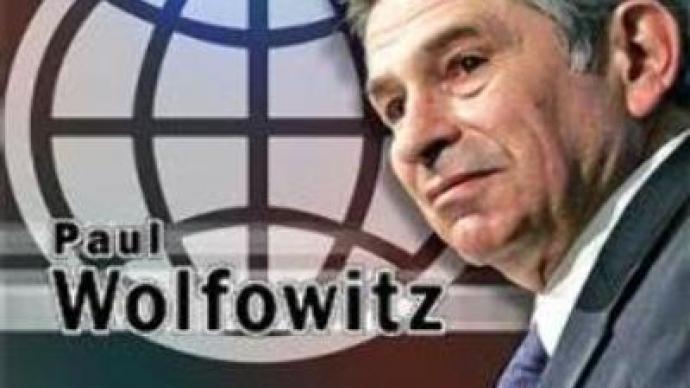 Ahead of the World Bank's spring meetings, a controversy involving the institution's President Paul Wolfowitz, has emerged. He has admitted his mistakes in helping female colleague Shaha Riza get promoted to a higher paid job.
Amid growing hostility and heightened tensions over the situation, the President of the World Bank has admitted responsibility for his role in the controversy.
"I made a mistake for which I am sorry,"
he confessed,
"But let me also ask for some understanding, not only was this a painful personal dilemma, but I had to deal with it when I was new to this institution and I was trying to navigate in uncharted waters".
The debate stems from the promotion of Shaha Riza, who was romantically linked to Wolfowitz. She was transferred to the State Department in 2005 when Wolfowitz began his five-year term as President. An independent watchdog, the Government Accountability project, claims Riza's salary at the World Bank was more than $ US 193,000, which angered the World Bank Staff Association, who claimed the salary increase was "grossly out of line" with the bank's standards.Wolfowitz, addressing accusations of favoritism, refused to discuss questions about his future at the bank.
"I did not volunteer to get involved in this, I did not get involved for any personal reasons but rather to resolve something that I think posed institutional risk,"
he stressed,
"I didn't hide anything that I did and, as I said, I am prepared to accept any remedies that the board wants to propose".
Wolfowitz's tenure at the bank has been marred by a series of controversies. He took office in 2005, leaving his position at the Pentagon as the U.S. Deputy Secretary of Defense, and one of the architects of the U.S. policies in Iraq.
"There is some legacy to that, obviously to the extent that he is linked to Iraq and the war there,"
Brett Schaefer, Heritage Foundation spokesman, believes,
"That was part of the controversy in his original nomination and will always be linked to him by some extent. But I think that the animosity towards his position right now within the bank arises from his anti-corruption effort".
The bank's 24-member board of directors is currently looking into the matter and have requested Wolfowitz to indicate how he intends to lead the institution for the remaining three years of his term. Hoping to defuse tensions at the World Bank, Paul Wolfowitz told the bank's employees in an E-mail that he would accept full responsibility for his actions. But clearly the growing controversy is overshadowing this weekend's spring meeting where the 185-nation organization is set to discuss the state of the world's economy and fighting poverty and diseases.
You can share this story on social media: