UK Home Secretary proposes wider snooping powers in light of Woolwich attack
UK Home Secretary Theresa May said on Sunday that it is "essential" to grant intelligence agencies the capacity to access communications data, despite overwhelming opposition to the Draft Communications Data Bill, first published last year.
The bill – widely known as the 'Snooper's Charter'– is making a comeback, alongside tighter controls on extremist groups, after a proposed stepping-up of Internet surveillance following the Woolwich murder.

Deputy Prime Minister Nick Clegg withdrew his support from the bill in April on the grounds that it was an invasion of privacy.

This 'snooper's charter' would have given agencies, including police and intelligence services, access to information and data collection by Internet service providers, including details of individuals' web browsing history, social media messages and internet gaming, storing them all for 12 months.  

"Intelligence agencies need access," May told the BBC's Andrew Marr Show, going on to confirm that she was pressuring for the passage of the charter in the wake of the vicious attack that killed off-duty soldier Lee Rigby in Woolwich.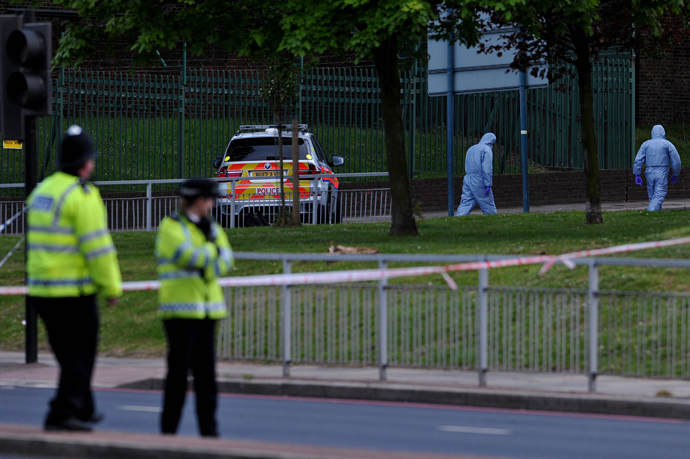 UK Privacy campaigners have reacted with fury to the proposed measures.
"It is remarkable for politicians to be jumping to legislation to monitor the entire country when all the evidence to date shows this horrific attack would not have been prevented by the communications data bill," said Emma Carr of the UK's Big Brother Watch in a statement released on Sunday.
Carr added that the law would hinder, rather than enhance anti-terror operations: It "would divert resources from focused surveillance operations at a time when the agencies are already struggling to cope with the volume of information available," she said.
One parliamentary researcher seemed to agree, tweeting that:
"Security Services say they struggle to monitor 4,000 leads; how would giving them access to 60m help?"

.@nickpickles @glyndaviesmp - Security Services say they struggle to monitor 4,000 leads; how would giving them access to 60m help?

— Jack Hart (@MrJacHart) May 26, 2013
Michael Adebolajo, the primary murder suspect in the killing of 25-year-old British Army drummer Lee Rigby on a busy east London street, stated to a phone camera shortly following the event that the attack was a case of"an eye for an eye."

"We swear by almighty Allah we will never stop fighting you until you leave us alone. Your people will never be safe. The only reason we have done this is because Muslims are dying by British soldiers every day," he said.
He and the second Woolwich attack suspect, the younger Michael Adebowale, were both known to MI5 but not assessed as being a potential "threat to life."

Adebolajo had reportedly handed out a wealth of extremist literature and made "rambling and intense" lectures on London's streets. He was later found to have appeared in a court in Mombassa, Kenya, in 2010 and subsequently deported to Britain.
It emerged on Sunday that he had been arrested in Kenya and appeared in court after being detained on the Somalia border. He was suspected of involvement in leading a group of Islamists to join up with terrorists in Somalia.
One of Adebolajo's childhood friends later claimed that MI5 had attempted to recruit him.
The idea that the case was a lone wolf attack was later dismissed, as a further three men, aged 21, 24 and 28, were arrested in southeast London under suspicion of involvement in the killing. However, details of the case were not revealed on account of the sensitivity of the investigation. On Sunday, counter-terrorism officers arrested another 22-year-old man in relation to the killing.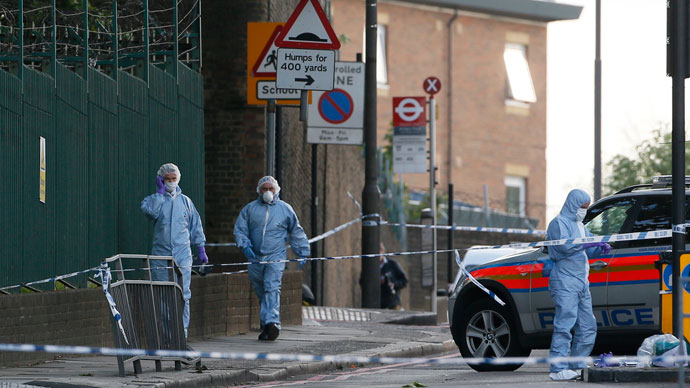 Michael Adebolajo, 28 and Michael Adebowale, 22, are both in hospital accompanied by guards following their shooting and arrest.
In her interview, May also proposed measures banning groups preaching hate, suggesting that the threshold for defining such a group should be set much lower.
"We need to look… at the question of whether perhaps we need to have banning orders, to ban organizations that don't meet the threshold for proscription. We need to look at organizations outside government as well as what government is doing. Whether we've got the right processes, the right rules in place in relation to what is being beamed into people's homes," she told the BBC.
The setting up of a new group on Sunday was announced by UK Prime Minister David Cameron's office, stating that it would aim to fighting radicalism in schools and mosques, tighten checks on Internet material deemed inflammatory, and disrupt any "poisonous narrative" of hardline clerics, according to Reuters.
"It will assess the range of strategies to disrupt individuals who may be influential in fostering extremism. It needs to confront those religious leaders who promote violence head on," the office said in a statement, echoing May's claim that "thousands" are at risk of being radicalized through the dissemination of information deemed extremist.
May suggested measures such as the use of court orders to block some websites, using the justification that people are able to watch things online "that can lead to radicalization."

Anti-Muslim Sentiment grows?
A British religious campaign group, Faith Matters, said that Rigby's death had led to a leap in reports of attacks on Muslims, while a government-backed hotline reported a tenfold increase in Islamophobic hate crimes. Attacks on Mosques and anti-Muslim graffiti were among the offenses reported.

The British National Party (BNP) held a protest in Woolwich on Saturday, 'United against Muslim terror,' and English Defence League marches in Newcastle over the weekend drew somewhere between 1,500 and 2,000 people.

Marchers were heard to be shouting "Whose streets? Our streets" and "RIP Lee Rigby." The EDL has a central London demonstration planned for Monday as well.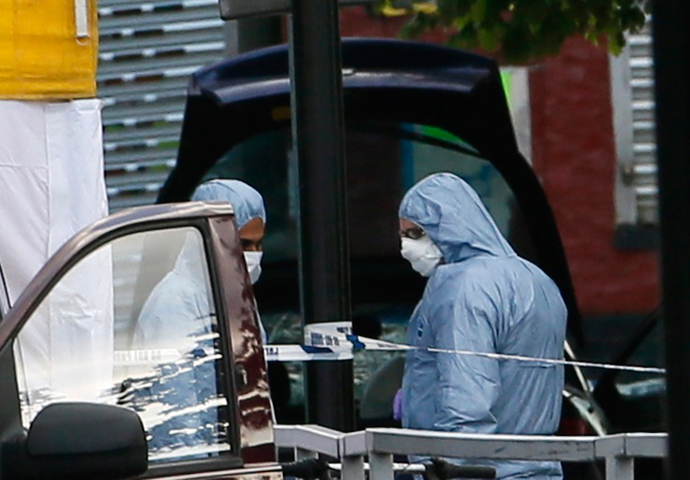 Eleven people in total have been arrested across the UK for making racist or anti-religious comments on social media, according to the Daily Mail. Nearly two thirds of Britons believe there will be a clash between the Muslim population of the UK and the white non-Muslim population, according to a YouGov poll published on Saturday. Expectations of a serious clash have risen nine points to 59 percent, according to the poll.
The percentage of respondents believing that Muslims pose a serious threat to democracy is up to 34 percent, from 30 percent in November 2012. However, two-thirds of YouGov poll respondents declared that they felt negatively about protests led by the two bodies, with a full 84 percent saying that they would never join the EDL.
The Woolwich brutality could lead to long-lasting community relations damage, Deputy Prime Minister Nick Clegg said in a speech on Saturday.
"Fear is an extraordinarily powerful emotion and when it takes root," he said.
You can share this story on social media: