Adieu, Bordeaux? Frances' wine-producing areas may dry up by 2050 – study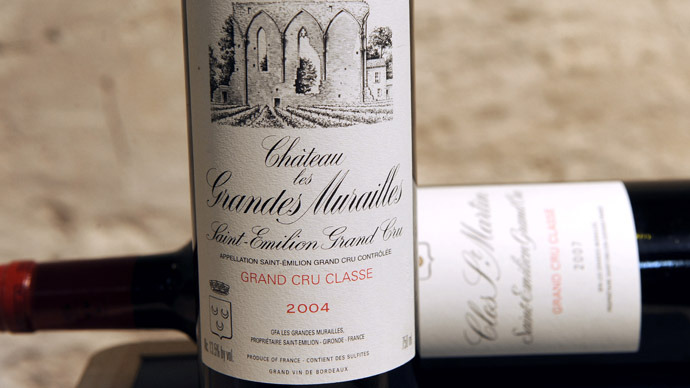 In less in 40 years elegant French and Italian wines might become a memory as major wine-producing regions like Bordeaux and Tuscany are predicted to dry up due to climate change, a new study shows.
A warming climate threatens drastic declines for wineries in the Bordeaux and Rhone regions in France, Tuscany in Italy as well as beyond the Mediterranean, in Napa Valley in California and Chile, according to the study published in the American 'Proceedings of the National Academy of Sciences'.

It requires cool winters and hot dry summers to produce good grapes. However, researchers expect big changes in regions with such conditions.

A warming climate will make it harder to grow grapes in traditional wine regions.

Hence, nearly three quarters of the world's wine-producing regions might become unsuitable, the report predicts.

The sharpest decline is expected in Europe, where the scientists predict an 85 percent decrease in production in Bordeaux, Rhone and Tuscany.

As the average temperature increases by between 2.5 and 4.7° C, "Southern France will see a lot of declining suitability," Lee Hannah, the leading author of the study, told AFP.

The future is also predicted to be less bright for Australian wine growers, with a 74 percent drop, and California's, with a 70 percent fall.

Wine growers in the Cape area of South Africa would also be hit hard, with a 55 per cent decline. Chile's wine producers would expect losses of about 40 percent, the study found out.

"I think wine lovers will find their wines will come from unusual areas, and the varieties they're used to getting from places like France will be changing," Hannah says. "Enthusiasts will have to begin thinking about wine in a different way."

However, he stresses the study does not suggest the end of wine, but drinkers might soon be surprised at bottle labels.

"Redistribution in wine production may occur within continents, moving from declining traditional wine-growing regions to areas of novel suitability," the authors wrote. "At higher latitudes and elevations, areas not currently suitable for viticulture are projected to become more suitable."

The climate change may open up other parts of the world to grapes, as producers may start looking for higher, cooler ground.

The study predicts traditional France and Italy regions could give way to wilderness areas around Yellowstone Park, or the hills of Central China becoming prime areas for wine production.

"Global changes in suitability for wine production caused by climate change may result in substantial economic and conservation consequences," predicts the report.

According to the International Organisation of Vine and Wine, global wine production dropped 6 percent in 2012, the lowest level in at least 37 years, on smaller grape crops in France, Spain and Argentina.

You can share this story on social media: