Wikiliance: Anonymous and WikiLeaks collaborated on Syria Files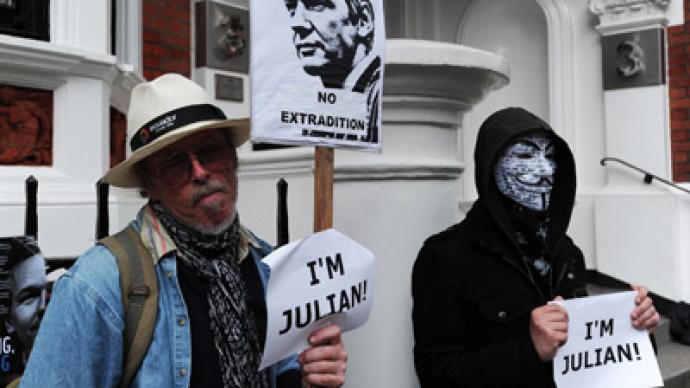 Anonymous and other hacktivists say they were the group that provided WikiLeaks with the more than two million e-mails released as part of the Syria files. This is not the first time that Anonymous and WikiLeaks have cooperated.
The statement comes days after WikiLeaks began releasing sensitive e-mails on a drop-by-drop basis, with new data published almost daily. However, it has so far refrained from speaking about the sources of the information. It turns out that back in February, Hacktivists from Anonymous Syria, AntiSec and the People's Liberation Army worked day and night "to create a breach of multiple domains and dozens of servers inside Syria," an Anonymous press release states. The operation was part of Anonymous' anti-Assad Op Syria. Many hacktivists taking part in the operation were working inside Syria. The amount of data turned out to be so massive that downloading it required several weeks. While Anonymous published some e-mails from the personal accounts of President Bashar Assad and his wife Asma back in March, most of the data were passed onto WikiLeaks, an organization that was "supremely well equipped to handle a disclosure of this magnitude."In the meantime, WikiLeaks has continued to publicize more compromising e-mail correspondences. One such correspondence reveals that Lord Kenilworth, a noted British landscape architect, worked on a new garden at the Assad family residence near the coastal Syrian town of Lattakia. The e-mails appear to indicate that Assad still owed Kenilworth money back in September, though the project had already been completed. Another batch of e-mails shows that Assad provided money to a female aide, a doctorate student at the University of Durham.E-mails released earlier also revealed that the PR firm Brown Lloyd James tried to help the regime polish up its image in order to win the media war, though it is unclear whether the Assad government had paid for the service. The publication of the "Syria Files" is not the first time that Anonymous and WikiLeaks have collaborated. Last December, Anonymous hacked five million e-mails from private security firm Stratfor. It apparently relayed those e-mails to WikiLeaks, which published them in February.
You can share this story on social media: