"What's on the other side?" Muscovites ask as Medvedev speaks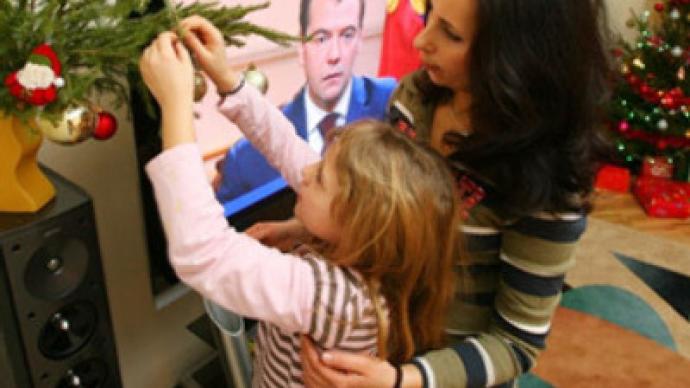 Muscovites turned out to have taken more interest in television series than in President Medvedev's interview with major TV channels aired on Wednesday.
The three main channels, Channel One, Rossiya and NTV, showed different versions of Medvedev's Q & A session at different times.
NTV was the first, including the interview in its daily news bulletin at 7 pm. While the programme normally lasts 30 minutes, it was extended to one hour for the occasion, with the interview taking 40 minutes. According to preliminary results of research carried out by TNS market research, the programme's audience share in Moscow amounted to 17.2%.
"The Results of the Year with Russia's President" aired on Channel One at 9.15 pm claimed 15.7% of viewers.
The Rossiya channel broadcast a shorter version of the president's interview which started at 8 pm and lasted for 56 minutes. It was viewed by 15.9%, which is less than the series "Monte Cristo" broadcast at the same time on Channel One, which claimed a 16.1% share. Another TV series, the detective story "Wood-Grouse", shown on NTV between 8 and 10 pm got 21.3% of Moscow's audience.
Medvedev was speaking generally about recent developments in the country and also touching upon some strategic goals for the future.
It's not yet known if Medvedev fared any better in his hometown of St. Petersburg.
You can share this story on social media: