What's on in Moscow this weekend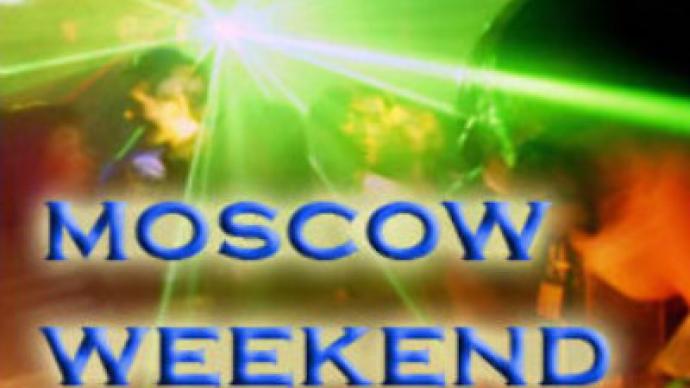 As the heat makes many flee Moscow for the countryside to relax in nature's lap, there's still a long list of attractions on offer in the Russian capital.
Music.
Moscow has seen a number of great concerts and festivals this summer. The coming weekend, however, is going to be relatively quiet.
A cult alt-rock band 'Auktyon' (or 'Auction') from St Petersburg is in Moscow on Friday and Saturday. A true legend of Russian music culture, they were formed in 1978 and since then have won fame both in their homeland and abroad. Auktyon's style is almost indefinable and it differs from one album to another, but it's undoubtedly one of the best Russian bands. In April this year they released a long-awaited new album entitled 'Devushki poyut' ('Girls sing'), which was recorded in New York together with top American musicians – Ribot, John Medeski, Ned Rothenberg, and Frank London. On Friday 17 Auktyon performs in B2 Club at 23:00.
Address: B2 club, Bolshaya Sadovaya street, 8, bld. 1, Mayakovskaya metro station, TEL: 650-99-18/09
And on August 18, Auktyon is in Ikra live/dance club at 2100.
Address: Ikra Club, Kazakova street, 8A, the building of Gogol Theatre, Metro 'Kurskaya', TEL: 505-53-51.
The Red Elvises continue their Russian tour and will perform in Duma club on August 17 at 2000. Despite its loud name (the club is located opposite the Russian parliament, or the State Duma, in the city centre), the place is far not pompous but rather nice and cozy. In addition to food and music, Duma offers board games for those who prefer to relax on the veranda, Wi-Fi for those Internet-addicted, a photo-exhibition, and mini-cinema.
Address: Duma club/restaurant, Mokhovaya street, 11, building 3B, Okhotny Ryad metro station, TEL: 692 -11-19
Clubbers are welcomed at glamorous 'Rai'for a party organised by Hed Kandi, a UK-based record label and a music brand specialising in house music. August's party special guest is a British DJ Andy Norman.
Address: Rai club, Bolotnaya emb. 9, Kropotkinskaya metro station, Tel: 767-14-04, 363-01-01
Arkhangelskoe Estate offers its visitors a chance to both rest outdoors enjoying the sights and architecture of the parks and listen to classical music. This Saturday 'Insula Magica' ensemble presents its 'Around Renaissance' programme, which includes music by Guillaume Dufay, Guillaume de Machaut, Girolamo Frescobaldi, Thomas Morley, John Dowland, Luca Marenzio. The Ensemble was created in 1981 by the students of the Novosibirsk Conservatoire. Its repertoire is based on the society and sacred music of the western European Middle Ages, Renaissance and Baroque, ancient Russian singing, chants of the Peter the Great epoch and Russian songs of the XVIII century. Insula Magica has got a great collection of ancient instruments and historical costumes. Laureate of international competitions, the ensemble has performed at many prestigious festivals in Russia and abroad.
Address: Arkhangelskoe Estate, 5th kilometre of Ilinskoye Shosse, then bus 151 or 549, Tushinskaya metro station, TEL: 797-5409, 561-9660, 363-1375, 8-901-782-6133, reservations 8-501-453-8229
Cinema.
No premieres in the English language at Moscow's cinemas this weekend but the number of movies screened is unusually high.
35MM cinema is hosting the Linoleum 2007 festival – a unique project which is a compilation of animation and different trends in media art. The slogan of the event is: 'Movies by artists, art by filmmakers…' Most of the content is being shown in Russia for the very first time. The festival started on Thursday, August 16, and closes this Sunday.
Director Jake Paltrow wishes you a 'Good Night', as his film is also shown in 35 MM. The romantic comedy with some dramatic elements will become a pleasant surprise for the fans of such films as "The Science of Sleep" and 'Eternal Sunshine of the Spotless Mind'. The plot of the film is that a tired 34-year-old clerk can meet the woman he loves only in his dreams – while he is sleeping. Penélope Cruz and Danny DeVito play in the movie. One thing is for sure, you won't fall asleep in the cinema.
The theatre is also showing 'Nausicaa of the Valley of the Wind'. It's a beautiful and terrifying animated fairytale about the post apocalyptic world from the genius Japanese director, Hayao Miyazaki. It premiered back in 1984 and was re-dubbed by Hollywood stars (Alison Lohman, Uma Thurman, Shia LaBeouf and Mark Hamill) in 2005, and hits the big screen in Russia in 2007. The film is an absolute classic ranked among the fifty greatest science fiction movies all time by the Internet Movie Database. The story is universal, so you don't have to be a hardcore anime fan to enjoy it.
Address: Pokrovka street, 47/24, Metro 'Kurskaya' or 'Krasnye Vorota', TEL: 917-18-83
There are two films in the "Oktyabr" multiplex, situated in the very heart of Moscow on Novy Arbat Street. As usually they are shown on the English-speaking eleventh screen ('Zal 11'). The headliner of the weekend is 'Stardust' the screen adaptation of a fantasy novel by one of America's favourite science-fiction authors, Neil Gaiman, and the most expensive British movie of all times. The team of director Matthew Vaughn created lots of visual effects and invited many big stars including the brilliant Michelle Pfeiffer, making a comeback to the screen after several years of absence. See her changing from 5,000 years to her present age in the role of the evil witch Lamia. And if you are too old for fairytales you can watch 'Knocked Up', quite a shocking comedy for an older audience dedicated to the hardships of pregnancy from director Judd Apatow, famous for 'The 40-year-old Virgin'.
Address: Novy Arbat Street, 24, Metro 'Smolenskaya', TEL: 545-05-05
Nothing at all has changed in the repertory of the Dome cinema. Just like a week ago you can watch 'Transformers' from director Michael Bay and producer Steven Spielberg. Giant robots still turn into vehicles and fight each other. Animated masterpiece 'Shrek the Third', Steve Carell's benefit performance 'Evan Almighty' and 'Knocked Up' are also on the screen.
Address: Olimpisky Prospect 18/1 (The Renaissance Hotel), 'Prospect mira' metro station, TEL: 931-98-73
Exhibitions.
"Russian Railways. The Great Road" is an exhibition currently on display at the State Historical Museum. Dedicated to 170th anniversary of the railways in Russia. It presents a collection of 459 items from museums and archives that highlight the role of the railroads in Russia. Among the exhibits there are models of trains – from the very first ones to the most up-to-date maps, paintings, photographs and uniforms, to name but a few. What makes the exhibition even more interesting is that its organisers have managed to recreate the atmosphere of a railway station with its noise and bustle. Visitors get a chance to watch historical scenes looking through coach windows.
And the exhibition, 'Non-conformists on Red Square', showcasing 80 works by artists of the late 20th century has also opened at Moscow's Historical Museum.
Address: Krasnaya Ploshchyad (Red Square), ½, 'Teatralnaya', 'Okhotny ryad' or 'Ploshchyad revolutsyi' metro stations.
A must for photography lovers is an exhibition of black-and-white works by the prominent Russian photographer Sergey Borisov entitled 'Time and People'. Organised by the Moscow House of Photography, the display will take place at the Manezh Central Exhibition Hall till August 31.
Address: Manezhnaya square, 1, Aleksandrovsky Sad metro station, TEL: 231-33-25
Also the Moscow Museum of Modern Art presents "Walks among Moscow Columbaria", a project by the famous Russian photographer Aleksandr Zabrin. An unsurpassed jazz chronicler of the late Soviet epoch, a musician-improvisor from photo art now turns into a topographer-documentarist. Charmed by forgotten fates, he walks through cemeteries, trying to decode "messages" on the headstones. You can join Zabrin's 'walk' from August 2 till August 26.
Address: Moscow Museum of Modern Art, Ermolaevsky lane, 17, Mayakovskaya metro station, TEL: 694-28-90
Meanwhile, the exhibition "Social-Realism of 1950-80s", is at the Central House of Artists – one of the biggest art galleries in Russia. Works by Yuntunen Sulo Jeikkievich (1915-1980), Rem Nikolaevich Ermolin (1926-2004), Dmitry Juravlev and Stanislav Torlopov will be on display from August 8 till September 5. If, however, social realism is not your thing, there are quite a few other exhibitions currently being held at the CHA.
Address: CHA, 10 Krymsky Val. 10, Oktyabr'skaya, Park Kultury metro station, TEL: 238-96-34, 238-98-43
A rare chance to see traditional Chinese art in Moscow is offered by the Tsereteli Art Gallery, where an exhibition by the prominent oriental artist Van Suejun takes place. More than 60 works performed in the traditional Chinese technique, "guohua", as well as those following western avant-garde styles are on display from August 15 till August 26.
Address: Zurab Tsereteli Art Gallery, Prechistenka Street, 19, Kropotkinskaya metro station, TEL: 637-41-50
Sports.
Four Moscow games in 2 days in the Russian Premier League this weekend. On Saturday 18 the defending champions from CSKA visit Saturn in Ramenskoye, a city in Moscow region, and Dynamo is playing Luch Energia in Petrovsky Park.
And in Sunday's matches the championship leaders Spartak match up with the bottom side Kuban at Luzhniki Olympic stadium and it will be interesting to find out how the Muscovites perform after Wednesday's vital Champions League qualifier against the Scottish club Celtic. The other match is a derby – this time between FC Moscow and Lokomotiv. The game at 'Eduard Streltsov stadium' is very important for both sides as both are hoping to finish the season in the top 3 and the result is difficult to predictabsolutely unpredictable.
Mountain bike owners may find this information interesting. On Sunday 19 in Bitsa recreational area, a huge 6-hour-long Endurance race will be held , named the Atom Racing. Professional and amateur riders can take part in the event; but if you want to win one of the valuable prizes promised by the organizers, you'll have to get up early because the registration of participants begins at 0830.
Address: Metro 'Yasenevo' and then by buses n° 101, 202, 165, 710, Bitsa recreational area (Zona otdyha bytsa) stop. TEL. 207-5639, 216-1727
Ballet.
The annual Summer Ballet Festival takes place on the stage of Moscow's "New Opera" theatre from June 17 till August 28. This unique Russian mega-project is dedicated to making classical ballet popular with the masses. Four world famous ballet groups are taking part in this year's festival.
This week, the Russian State Ballet theatre, which has remained one of the leading Russian ballet companies for over 20 years, will perform on the stage of 'New Opera'.
On August 17-18 you can watch "Sleeping Beauty" by Pyotr Tchaikovsky., while on August 19 the Russian State Ballet will perform another famous Tchaikovsky fairy-tale ballet , 'The Nutcracker'.
Address: The Kolobov Novaya Opera Theatre, Karetny Ryad 3/2 (Hermitage Garden), Pushkinskaya, Tverskaya or Mayakovskaya metro stations. Trolley buses: B or 10 to Karetny Ryad. Booking information: 505-68-03, 784-56-35. The performances start at 1900.
You can share this story on social media: