"We've had a very good discussion": Merkel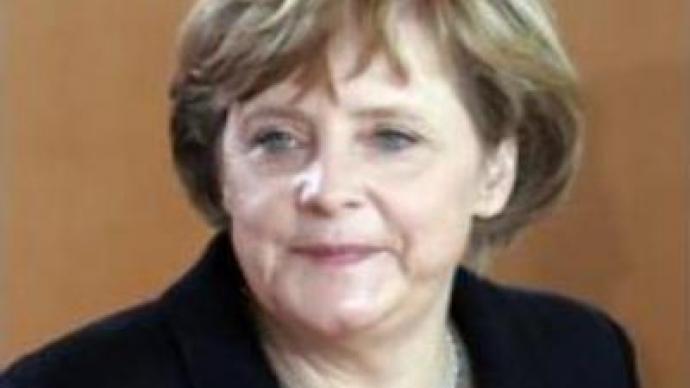 The leaders of Russia and Germany have finished their negotiations on a wide range of issues in the southern resort of Sochi. The two leaders have held a joint news conference on the outcome of the discussions.
Both leaders have confirmed they support a revival of the Middle-East peace process in which the UN, the U.S., Europe and Russia are highly involved. Besides the Russian president says he hopes Germany's presidency of the EU will help build relations between Russia and the European Union. On the issue of energy security and supply, President Putin has reassured that Russia is ready to negotiate with Europe, but that respect for all sides' interests is needed.
"What concerns energy and the reliability of our co-operation in the future, I would like to emphasise again that everything that has been done by Russia over the recent years, is aimed at creating common and transparent regulations of our relations with the EU,"
he said.President Putin did not hesitate to touch upon sensitive issues saying:
"You may remember the crisis with the [gas] deliveries to Ukraine. Russia was accused of politicising the issue, using the so-called 'energy weapon' in relationships with its partners. Today nobody speaks about it any more, in respect to other countries. And we have always pointed out that we are intending to switch over to clear-cut market principles of relationships with all countries."
Chancellor Merkel countered there was a need to improve communication with Russia but agreed that the two countries have close ties because of Russia's reliability as an energy supplier.
"I understand and accept that Russia wants market-based prices for its oil and gas when dealing with Ukraine and Belarus,"
she said.
"Of course we want to have reliable supplies, and I believe it's critical to communicate such things to each other in the future, and to communicate solutions.""I think we've had a very good discussion on that,"
underscored Ms Merkel,
"and the partnership pact could put into words the mechanisms and ways of communicating information that could avert worries and problems or even disappointments in the future."
The two leaders also focused on the situation in Serbia and Kosovo, in light of today's election in Serbia. Vladimir Putin believes the resolution should be universal and become a pattern of resolving similar conflicts in other parts of the world.
"These solutions should satisfy both Belgrade and Pristina, that's what we're calling for,"
said he, adding that Belgrade should not be forced to take decisions which could humiliate the Serbs.
"We must have patience seeking for mutually acceptable solutions, and they can be found,"
added Mr Putin. Angela Merkel voiced a hope that the election would boost democratic forces in the country.
"I'd like to remind that today Serbia's holding democratic elections,"
she said.
"I'm very pleased about it. Keeping in mind what Serbia has come through, this is an indication of success."
Chancellor Merkel has also touched upon the situation in other former Yugoslavia republics saying:
"We can withdraw troops from Bosnia because positive developments have occurred there, and the situation in Macedonia has improved. Croatia is holding negotiations with the EU. What we have achieved for them, we also want to achieve for Kosovo, but not destabilising Serbia." "It's in the interests of the European Union,"
she pointed out,
"and I hope today the democratic forces of Serbia will lead."
Aleksandr Rahr, a political expert of the German Council of Internal Politics, believes that Germany expects from these talks:
"First of all, some kind of understanding of European problems by Russia. The energy crisis between Belarus and Russia has demonstrated that the West, the Germans – the old allies of Russia who want to build an energy alliance with Russia – have now many questions concerning this partnership. They want to have Russia as a reliable partner back on the scene."

You can share this story on social media: