Woman shot as crowds storm Ukrainian regional security service office (GRAPHIC VIDEO)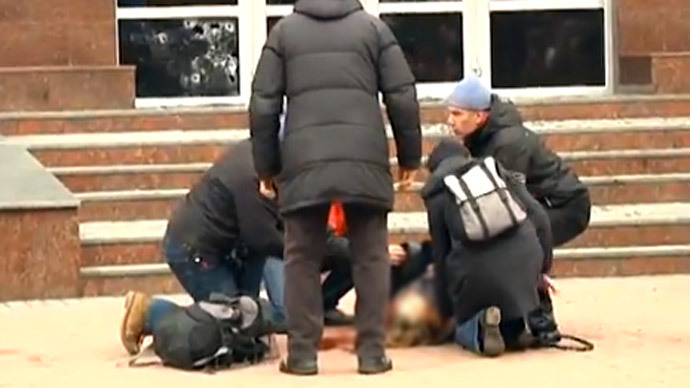 A woman has been taken to hospital with multiple wounds to the head, after being shot by an unseen gunman during an attempted storming of a security building in the central Ukrainian city of Khmelnitskiy. Three other protesters have also been wounded.
On Wednesday afternoon, several thousand opposition demonstrators occupied the center of the city in western Ukraine, which has been marked by a series of violent clashes throughout the political crisis, and surrounded the security building. The crowd then began to throw stones and break windows.
According to eyewitness footage posted on the video-sharing website, YouTube, several climbed inside the building, before shots rang out from near the entrance, shattering the glass. As the weapon was fired from behind a tinted window pane, it is impossible to say who was holding it.
The video shows the crowd momentarily pulling back, revealing a motionless woman on the ground near the entrance, with blood streaming from her head. Several protesters then show their bullet wounds to the unnamed cameraman. The crowd then regroups and pushes two empty trolleybuses in front of the entrance, with a man climbing on top of one of them and waving a Ukrainian flag.
Official authorities have confirmed that four people had been taken to a local hospital, but say the government building remains under their control.
"We have already started questioning people, and will soon begin criminal proceedings," said a statement from regional police chief, Vasily Ptaschuk, who was present at the scene.
Crowds have attacked government buildings in several other Ukrainian cities as rioters turned the center of the Ukrainian capital into a war zone.
You can share this story on social media: