Western media turns on Russia over Litvinenko's death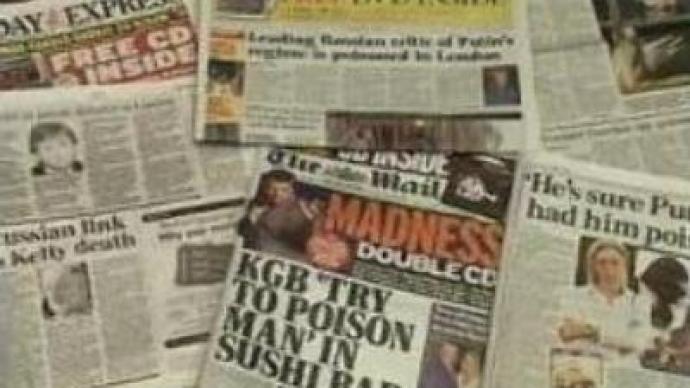 British police investigating the murder of former Russian security officer Aleksandr Litvinenko have completed their work in Moscow, but no details of Scotland Yard's findings have been made public.
Meanwhile, the mystery surrounding Litvinenko's death has sparked intense speculation about the case in the Western media. "Corruption, Violence and Vice Have Triumphed in Putin's Russia", "Russia's Poisoned Democracy", "The Rotten Heart of Russia", "Russian Roulette" – the headlines are reminiscent of how western newspapers used to describe the USSR: spy scandals, conspiracy plots and the West wagging its finger at the Red Menace. The murder of Aleksandr Litvinenko has grabbed the headlines from London to Moscow and beyond, and raised numerous theories. The former FSB agent and bodyguard has been called a KGB-spy by the western media, even though he never served in this intelligence service.
"There was no interest by the Russian government in creating a potential martyr in an individual, especially in Mr Litvinenko, who had links with all kinds of unsavoury characters,"
says Wayne Madsen, a Washington-based investigative journalist.
"To do this would actually hurt the Russian government."
The American-based online magazine National Review sees no mystery in this death. Its main argument is "on their deathbeds, people don't lie." The edition also offers an interview in which the interviewee links the deaths of Litvinenko, Politkovskaya and the assassinated Paul Klebnikov.It does not take into consideration the fact that the late editor of Forbes Russia accused Boris Berezovsky of contract killings and links to Chechen mafia in his book "Godfather of the Kremlin: Boris Berezovsky and the Looting of Russia". Most of the articles about Litvinenko's case offer plenty of assumptions with no room for evidence or Russia's official position, other than "the Kremlin denies".Sergey Minakov, the Director of political affairs for the PBN Company, that specializes in strategic communications, says Russia lacks sophistication when commenting on sensitive issues.
"This Russophobia of the recent days and months is a clear example that [even] the very successful, so to say, rebukes from the top leadership is not enough to rebuff all the, so to say, offensive. Much more sophisticated technique [is necessary] to deal with it,"
said he.The expert believes the relationships between Russia and the West never really reached the point of authentic partnership. Peter Zeihan, a Senior analyst in Stratfor Inc, a security consulting intelligence agency, doesn't want to speculate on who's behind the murder. He says the case reveals a real difference in approach, calling it "a civilisation split between Russia and the West".Although some top western officials are not willing to jump to conclusions, many believe the image of Russia has been damaged. The KGB disappeared 15 years ago with the collapse of the Soviet Union, but some stereotypes are hard to destroy.
You can share this story on social media: