Egypt celebrates Mubarak's resignation amid outcry over Western hypocrisy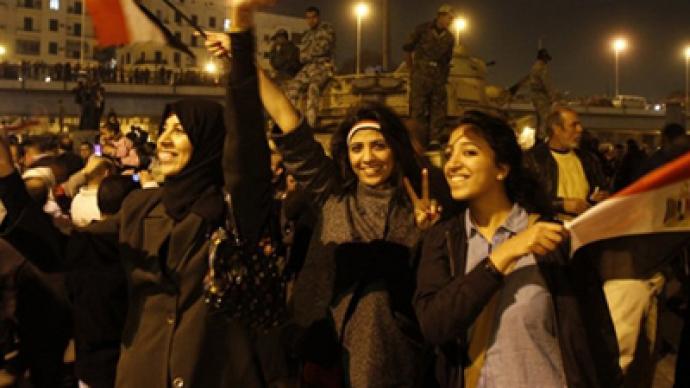 Mubarak's steely determination not to resign was broken as he stepped down as president on Friday. Egyptians spent all night celebrating the end of his 30-year regime. But whose victory is it?
Egyptian President Hosni Mubarak has resigned, handing power to the military after 30 years of rule and three weeks of nationwide protests. Western powers, led by the US, have been urging a transition of power, abandoning the leader who for three decades was their main henchman in the Arab world.
Watch more on how Western powers influenced the outcome of events in Egypt over the past three weeks
"The Western views, I'm sorry to say, are very hypocritical," says an Egyptian living in London."Double standard view: they supported the Egyptian regime for such a long time and in fact they armed the Egyptian regime. All the security operators in Egypt are trained and financed to a large extent by the American and British authorities, but now, when the two governments see the ultimate collapse of the regime, they are talking about democracy and human rights."Now the West is claiming this as a success for democracy and trumpeting Egypt's new-found freedom. Rather than such swift policy U-turns, the West might well be better placed to press harder on autocratic regimes such as Mubarak's that restrict political freedoms and damage economic progress."Suddenly the European Union wakes up after 30 years to the fact that there have been major violations of human rights. This is unacceptable. What have they been doing for the previous 30 years when Mubarak was putting down the opposition by force?" says William Spring, of Christians Against NATO Aggression. "European and World leaders don't have a proud record in terms of sticking up for democracy and human rights sufficiently in the past," echoes him Richard Howitt, Member of the European Parliament from the British Labour Party.Still, the US is presenting this as a triumph of democracy. President Obama reacting to Mubarak's resignation, has shared his joy that the Egyptians' voices have been heard. "This is how real democracy works," he said.Egypt is a strategic partner of the US in the region, one of its "pillars" in the Middle East. Though now it is up to the Egyptians to elect their next leader, it can be hardly expected that the US will not try to pull strings in this process. International policy journalist Pepe Escobar says the United States will do anything it can to make sure the new Egyptian government will be a friendly one. And it is not going to be too difficult with the army in charge of the country."They [Mubarak and Suleiman] were being opposed by Annan, Chief of the Army, and Tantaui, the Minister of Defense," says Escobar. "And they have a very close relationship with the Pentagon.Tantaui is very, very close with Robert Gates [US Secretary of Defense]. They talked on the phone at least five times this past week. So obviously, Washington will be supervising anything that happens in Cairo that is intimately connected with the Supreme Military Council."Mubarak's resignation marks a pivotal moment in Egypt's modern history, and there is no doubt this is a huge success for the people. But this period will also be pivotal in determining their future.Western involvement now needs to tread carefully, ensuring they are encouraging genuine and lasting reform as opposed to simply fuelling an impassioned revolution, which risks simply replacing one tyrannical regime for another.
Robin Simcox from the Centre for Social Cohesion, a London based think-tank, says the situation in Egypt proves the Middle East countries are keen on democracy, too."What Egypt proves today is that the democratic impulses that animated Europe, America, the rest of the world, are there in the Middle East and Muslim-majority countries as well," he says. "There's often a lot of cynicism around this as if that part of the world isn't keen on democracy, as if they love a strong man, an authoritarian ruler. I think [the events in Egypt] prove this isn't the case and hopefully this will have a domino effect of democratic reforms across the region."
You can share this story on social media: