Brussels: Police disperse protesters with tear gas, water cannon (PHOTOS, VIDEO)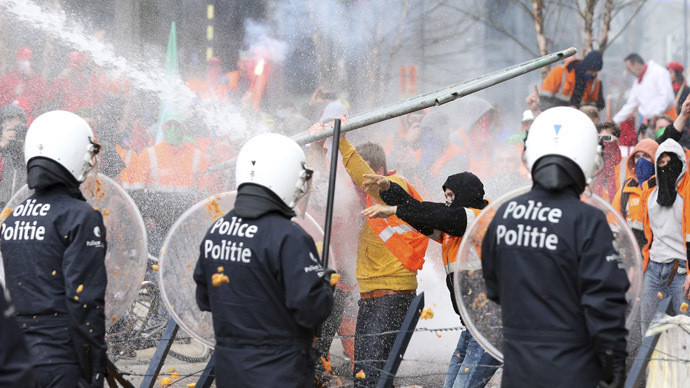 Brussels police used tear gas and water cannon in clashes with protesters, as thousands gathered at a trade union rally against austerity. Violence in the area where many government offices are situated caused a lockdown at the US embassy.
Around 25,000 people, according to Brussels police spokeswoman, Ilse Van de Keere, marched against austerity and unemployment. They were faced with a heavy-handed police response.
Initially, the trade unions expected to see 40,000 demonstrators on the streets of Brussels.
Some demonstrators threw oranges and cobblestones at police. Violent clashes also took place near the US embassy.
#Photo of the incidents in the trade union demonstration in Brussels today pic.twitter.com/Y8G2PTN8Rl

— Eliseo Oliveras (@EliseoOliveras) April 4, 2014
Traffic was paralyzed in the Belgian capital, and public transport stopped well short of the protest location.
Brussels demo update: Video of police using tear gas, water canons against anti-austerity protests at #Schuman#EUhttps://t.co/LXStRtsQfz

— José Miguel Sardo (@jmsardo) April 4, 2014
Standoff at Schuman. European trade unions #protest against austerity. Stun grenades, bottles flying. #Brusselspic.twitter.com/AVdRnlYtp7

— Darinka Bunjevac (@darinkabunjevac) April 4, 2014
Trade unions representatives from across the EU gathered in Brussels, following a call from the European Trade Unions Confederation (ETUC). This is the first "euromanifestation" in 2014, with the participants demanding "a new way for Europe."
It has been reported that clashes happened between the police and dockers from Antwerp and Gent, who led the march and started throwing projectiles at police.
A protester feels the effects of the water cannon in Brussels... pic.twitter.com/1lKvBYAodu

— Duncan Crawford (@_DuncanC) April 4, 2014
.
Rond Point Schuman Brussels pic.twitter.com/R0yXzyvf9y

— Dick Nieuwenhuis (@dicknieuwenhuis) April 4, 2014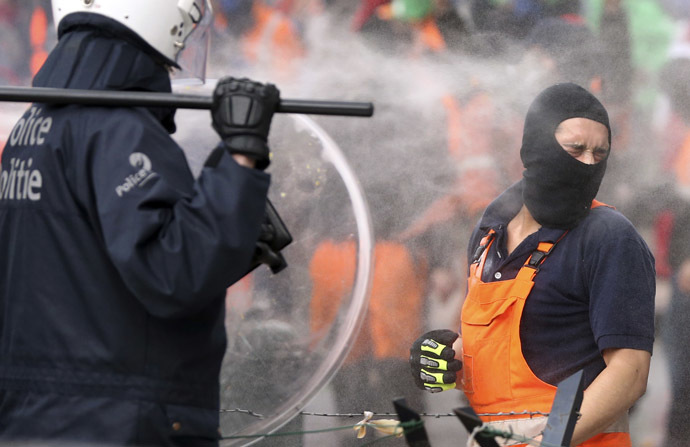 Journalists now out of US Embassy Brussels but staff still can't go out for a sandwich. They are under lock down still! Protest continues.

— Matthew Price (@BBCMatthewPrice) April 4, 2014
.
Pulling the US embassy Brussels curtains in case anti austerity protestors throw rocks at windows... pic.twitter.com/A92wR6enRq

— Matthew Price (@BBCMatthewPrice) April 4, 2014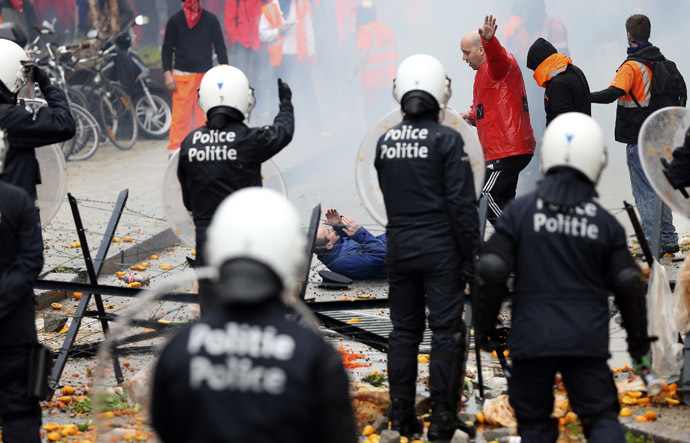 The trade unions are demanding an economic policy that involves "no austerity, but big investment aimed at steady economic growth and quality jobs," said the ETUC press secretary, Emanuela Bonacina.
Demonstrators are urging EU citizens to vote for candidates that "will change the order of governing the EU," during the European elections that are set to take place on May 22-25.
The ETUC is also suggesting measures to battle austerity, such as yearly investments at 2 percent of GDP over the next 10 years to stimulate new private investment.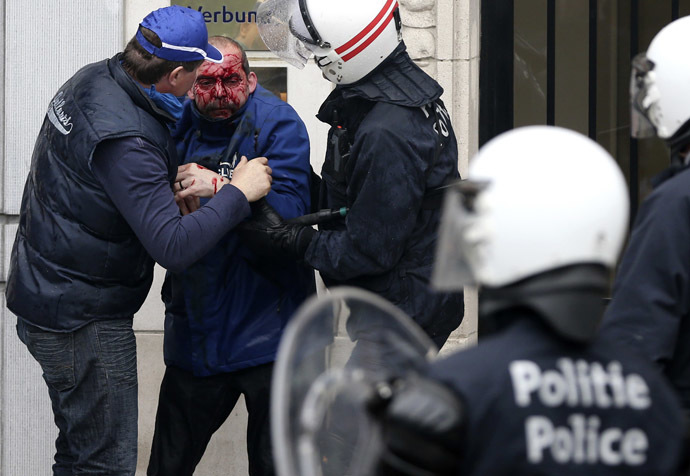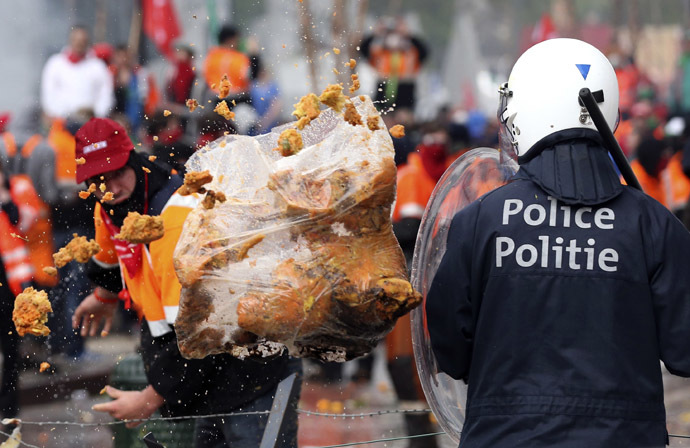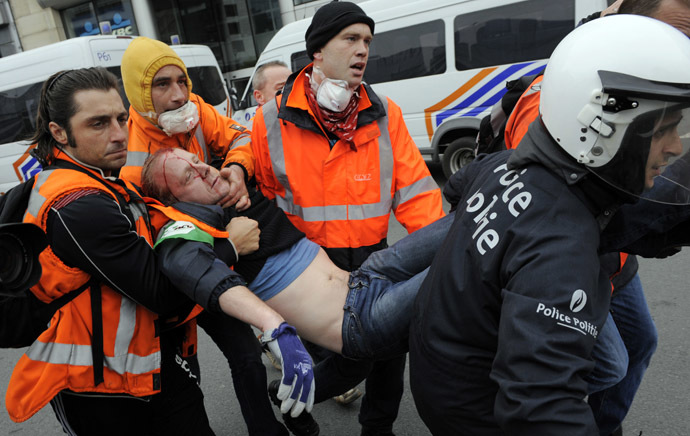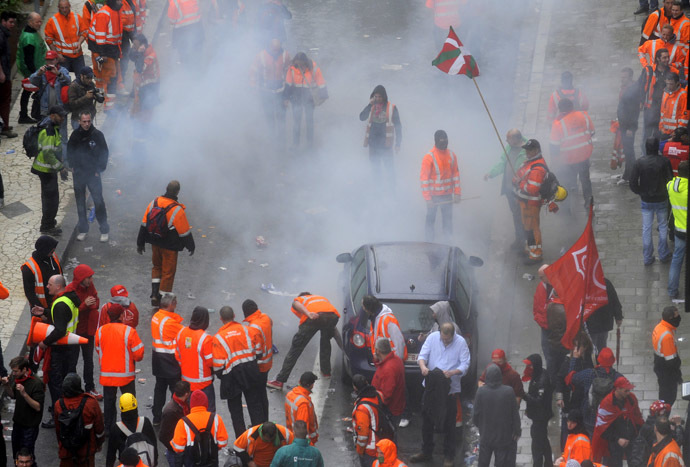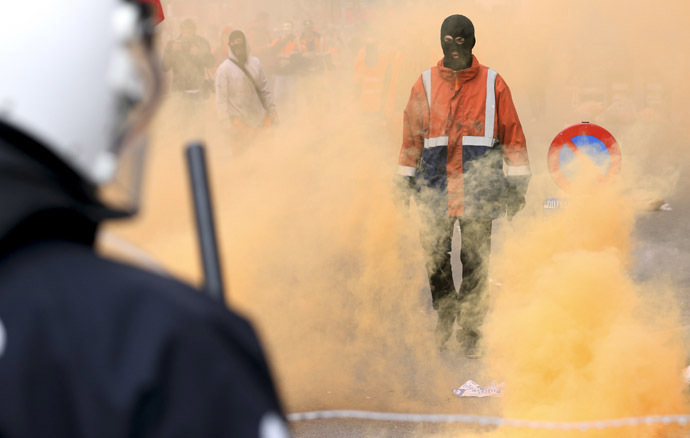 You can share this story on social media: