War crime suspect Hadzic awaits extradition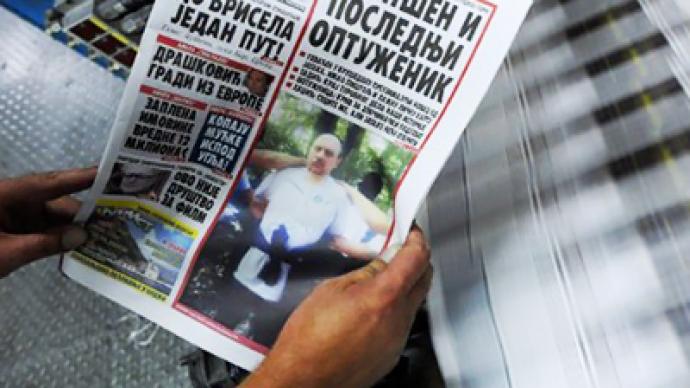 Suspected war criminal Goran Hadzic is awaiting extradition from Serbia to stand before the Hague Tribunal. His arrest on Wednesday was praised internationally, but many experts say it is still unlikely to open the way for EU membership for Serbia.
A Serbian military court has agreed to Hadzic's extradition to the Netherlands. His defense lawyers said they will not appeal the decision because they believe it is pointless.Although according to law the defendant has three days to appeal the decision, Hadzic has signed documents declining to do so, his lawyer Toma Fila was quoted as saying by the RIA Novosti news agency.  On Thursday, the former leader of Croatia's ethnic Serbs met with his sister, daughter and son, who came to visit him at the detention unit of the Serbian war crimes tribunal. Other members of Hadzic's family will see him on Friday. Fila was also quoted by Interfax news agency as saying that if it were not for the family meetings, his client would have already been extradited from Serbia.  "There is a realistic scenario that he might be taken to The Hague on Friday afternoon," the lawyer told the journalists.Serbian media are speculating over where and how Hadzic has been hiding for seven years, ever since he went on the run after an indictment by the Tribunal for the Former Yugoslavia. Some suggest that he had been abroad, and name Russia, Belarus and Romania as the possible destinations. Police sources say they had received such indications over the years, but they had never proved true.Russian authorities say they have no information that Hadzic was hiding on Russian territory. "I would like to say that our agencies did not have such information," Russian Foreign Ministry spokesperson Aleksandr Lukashevich told journalists on Thursday.Goran Hadzic was arrested in northern Serbia in the region where the famous Krusedol monastery is located. Serbian prosecutors say they picked up the fugitive's trail thanks to an expensive painting by Amedeo Modigliani, which he sold to raise money to cover living expenses.Hadzic, who is suspected of various crimes committed in the early 1990s, when he was the leader of Serbs in Croatia. He is the last high-profile fugitive wanted by the Hague Tribunal, and with his arrest the court will be able to focus on ending its mandate.Some experts say the current Serbian government may have timed the arrest of Hadzic as well as the arrest of another war crime suspect Ratko Mladic, to score additional points before the parliamentary election due next year. However the hope for quick EU membership for Serbia may have little ground, since the issue of Balkan war fugitives is just one of many barring the accession.
Hopes that handing over war crimes suspects to The Hague will open the EU's doors to Serbia are unfounded, says Stephen Karganovic from the Srebrenica Historical Project. Besides, Karganovic added, Serbs themselves are no longer eager to join the union, despite their government's aspirations."In spite of the total control of Serbia's media by Western interests, the Serbian people are no longer as ignorant of the outside world as their rulers would like them to be," he said."Polls show that about 60 percent of Serbs are opposed to or skeptical about joining the EU," Karganovic added. "Many have relatives abroad and are getting the true picture of what things are like out there in the 'Promised Land.'"
You can share this story on social media: