​Radio Voice of America stops airing in Russia due to contract expiration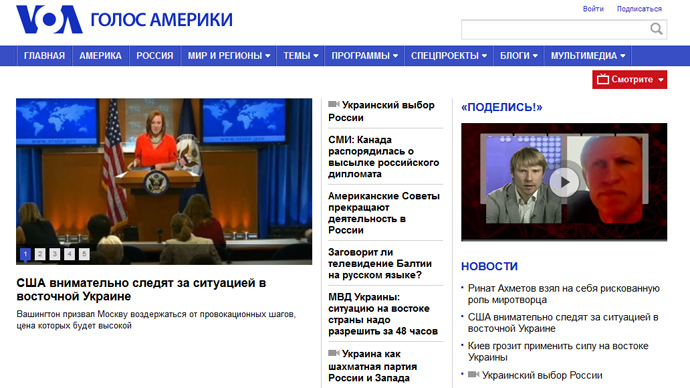 Voice of America radio station has stopped broadcasting in Russia due to the expiration of its contract to operate. Head of the Rossiya Segodnya news agency, which coordinates broadcasting VOA in Russia, said the contract will not be renewed.
Dmitry Kiselyov, the head of the Rossiya Segodnya news agency, which coordinates broadcasting of Voice of America and Voice of Svoboda in Russia, has notified the US Broadcasting Board of Governors (BBG) that the VOA broadcasting contract will not be renewed.
"We are not going to cooperate anymore," said Kiselyov, in a March 21 letter to the US BBG.
BBG chairman Jeff Shell has replied to Kiselyov's letter saying that such actions are an attack on the freedom of speech.
"Moscow chose the wrong path and decided to limit freedom of expression," he said adding "this is the fundamental value shared by many countries. BBG will continue to work for the Russian audience through online platforms and satellite transmissions."
Kiselyov denied that his decision has "anything to do with the freedom of speech" as Voice of America and the Voice of Svoboda "have nothing original to say."
"They sound like they are broadcasting from another world, at least from a world that doesn't exist anymore" he added. "I regard these radio stations as mere spam on our frequencies."
Kiselyov was included in the EU's second round of sanctions which listed 12 people in March. The sanctions were a response to Moscow's acceptance of Crimea, a former Ukrainian region, as a new part of Russia. Crimea held a referendum and voted to declare independence from Kiev and join Russia, following an armed coup in the Ukrainian capital.
In March Kiev District Administrative Court ruled to suspend the broadcasting of four Russian channels in Ukraine. The Ukrainian media watchdog claimed that Russian information content is "threatening Ukraine's national security". The Russian Foreign Ministry called this a violation of international obligations and an attack on media freedom.
The reason for the shutdown of VOA broadcast in Russia in not clear, said Head of the Presidential Council on Human Rights Mikhail Fedotov as cited by Interfax. However he added he is certain that when any media closes "it impoverishes the informational landscape."
Other members of Russia's Human Right Council and the Civic Chamber responded to Fedotov's words by saying they were puzzled by his position, with some branding it "double standards."

According to Council's member Maria Bolshakova, Fedotov has a right to voice his opinion in accordance with the freedom of speech, but "in reality, the majority of the Council does not agree with him." Thus, one should not treat Fedotov's words as a "political statement of the Council."

"For me it looks quite strange that regarding the events that really concern human rights the Council is often silent," Civic Chamber member Anton Tsvetkov said. When people in Ukraine were deprived of their right to watch Russian TV channels "the Council was silent, but as soon as VOA stopped broadcasting they immediately started talking."

"No one has been listening to it for ages anyway, it was created as a medium of information war," Tsvetkov said.
You can share this story on social media: