Doubts over Russian poll fairness? Check pre-election research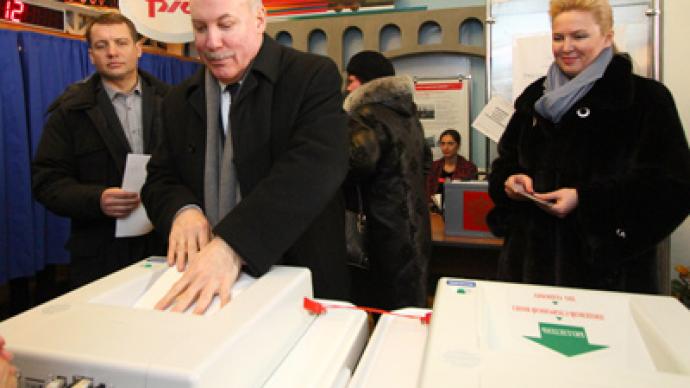 A number of opposition figures have spoken out with claims that Russia's presidential election was unfair. But the results line up with what a number of opinion polls, including independent ones, predicted a Putin victory in the first round.
The latest official results show Putin taking 63.6 per cent of the votes, overwhelmingly trouncing his rivals.
Exit polls have shown a more modest performance, but Putin is still the victor – and none of them indicate that a runoff is possible.
The Public Opinion Fund (Fond Obshchestvennoye Mneniye) posted a detailed exit poll on its website. And according to the data, Putin won a little less – 59 per cent.
The state-owned All-Russian Center for the Study of Public Opinion (known as VTSIOM in Russian), the country's oldest polling institution, published its own exit poll showing Putin winning with 58.3 per cent. Zyuganov gets 17.2 per cent, followed by Prokhorov, Zhirinovsky and Mironov – all with under 10 per cent of the votes.  
The US-funded NGO GOLOS (meaning "vote" or "voice") conducted an exit poll based on SMS-messages received by its observers at the voting stations. According to its results, Putin scooped up 53.12 per cent, which, once again is more than enough to secure victory in the first round. He was followed by Zyuganov with 19.36 per cent, Prokhorov with 14.04 per cent, and Zhirinovsky with 6.79 per cent and Mironov with 5 per cent.
­Putin's rating only increased recently
Opinion polls in the run-up to the election predicted similar results, although they did change over the course of two months.
Back in December, Putin's support was actually pretty low – 42 per cent, according to VTSIOM. But his backing grew into the 50s in January and February. Zyuganov mostly oscillated around the 10 per cent mark in the same period, while Prokhorov saw a steady rise in support from 1 to 5 per cent over the same period of time.
A similar trend was indicated by the Public Opinion Fund. According to the pre-election opinion polls, Putin's support grew from 52 per cent in January to over 58 per cent in February.
A number of independent opinion polls indicated that there would be no clear victory for the prime minister in the first round. Sociologists from the Open Opinion project, financed by donations, conducted a poll in mid-February which indicated that only 48 per cent of Russians were ready to cast their ballots for Putin. That would imply a second round in which Putin would win with 54 per cent of the vote, the poll said. The study involved polling 3,358 Russians in 82 regions.

Obviously these results do indicate that a second round would be necessary, but they do show a mediocre performance by Putin's closest competitor Gennady Zyuganov. And if a runoff was to be held, Putin would have won with 54 per cent, according to the same poll. Moreover, one of the poll's organizers, Aleksandr Chepurenko, a doctor of sociology and dean of the sociology faculty at Moscow's prestigious Higher School of Economics, still predicted that Putin would win in the first round.    
The study also showed which social groups supported which candidate most. Putin's most devout followers were women, with 53 per cent, and seniors over the age of 55 without a university degree. Young voters aged between 18 and 34 and those with a university degree supported the frontrunner least, with only 42 per cent and 40 per cent saying they would vote for him – which would still guarantee the first place.
And Levada Center, Russia's largest self-reliant non-governmental polling agencies, predicted Putin's victory with 62-66 per cent in its final pre-election poll, published on March 2.
Both government and non-government polling agencies predicted a Putin win, and most of them concurred that it would be a first round victory. And with webcams installed at most polling stations, the elections can easily be called the most transparent in Russian history. All this makes accusations that they were unfair sound somewhat hard to believe.
Click here for full election coverage