Victims of school tragedy buried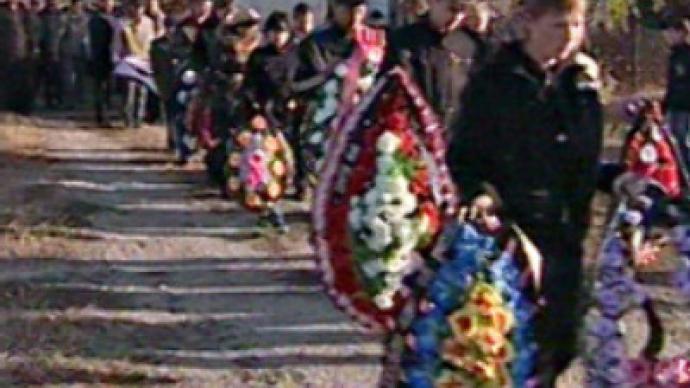 Friday is a day of mourning in Russia's Orenburg region in the Southern Urals following the collapse of a school building on Wednesday, which killed five teenage girls. All of them were buried on Friday.
Three more students and one worker were injured in the incident. One girl has spinal injuries, but her spinal cord has not been damaged, doctors say, and she is able to move.
Initially it was thought the funeral of the two Muslim girls among the victims would take place on Thursday, but their families decided they should be buried on the same day as their classmates. Each of the girls have been buried in their home villages, according to the press service of the Orenburg region.
A day later the deputy head of the school, 43-year-old Marina Borodina, was found dead after apparently committing suicide.
The school was undergoing repairs but remained open. Evacuation began when several cracks appeared in a wall, but several children were still inside when part of the building collapsed.
A criminal investigation has been launched. The country's health and safety watchdog says no children should have been in the building while repairs were being carried out.
Teacher commits suicide following school tragedy
Five children die in school collapse
You can share this story on social media: