First veiled female newscaster appears on Egyptian TV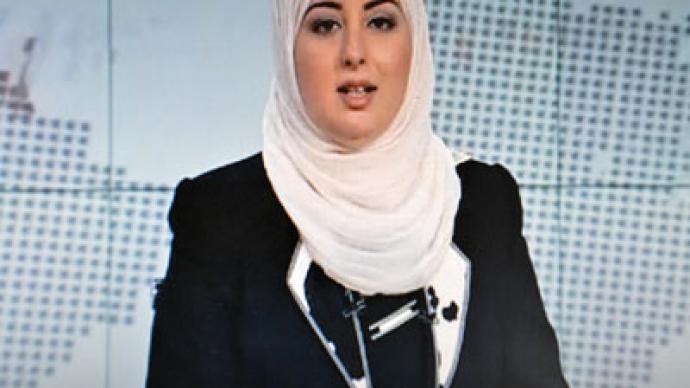 A female TV presenter has appeared on an Egyptian national newscast in a headscarf for the first time since the overthrow of ex-President Hosni Mubarak and the rise of the conservative Muslim Brotherhood Party.
Fatma Nabil appeared on Channel 1's primetime slot wearing a cream-colored headscarf and a dark suit. State TV announced that it was the first such appearance by a veiled woman in the nation's history."Finally, the revolution has reached" Egyptian media, Islamist Information Minister Salah Abdel Maqsud Nabil told the Muslim Brotherhood's daily newspaper, Freedom and Justice. Maqsud Nabil said that the appearance of a veiled woman on national television should serve as an example to other women appearing in TV broadcasts.During the Mubarak regime, state media took a more secular approach to its treatment of women, largely keeping women's headscarves and full-face veils off the air. Women in the hijab were employed by Egypt's Radio and Television Union, but only for off-camera positions.Leading media should be characterized by professionalism and provide different opinions, Information Minister told the Egypt Independent newspaper. Those who do not comply with the rules dictating professionalism, objectivity, neutrality and ethics would be fired from their positions, he said. Maqsoud also claimed that he was developing a 'code of ethics' to ensure impartiality, objectivity and professionalism in media.Censorship on the rise?Egyptian media outlets have been placed under various forms of censorship since the Muslim Brotherhood's victory in the country's Parliamentary and Presidential elections.In August, a journalist at the daily Al-Dostour newspaper and another at the Al-Faraeen TV station were charged with insulting recently elected President Mohamed Morsi, and with inciting their audiences to overthrow the Egyptian government. The outlets were subsequently shut down.Three Egyptian columnists also complained that their articles were removed by a new committee of editors, who monitor state-run newspapers for anti-Brotherhood opinions, Reuters reported. The editors were chosen by the Egyptian Parliament, which is presently dominated by Brotherhood members.There has been a wave of international criticism calling the move a form of censorship. The Brotherhood repeatedly denied any intention of stifling press freedom, claiming it seeks to curtail media reports that might incite violence or unrest, or which personally insult President Morsi.
You can share this story on social media: