Lord's Banker ousted: Vatican Bank chief fired in corruption row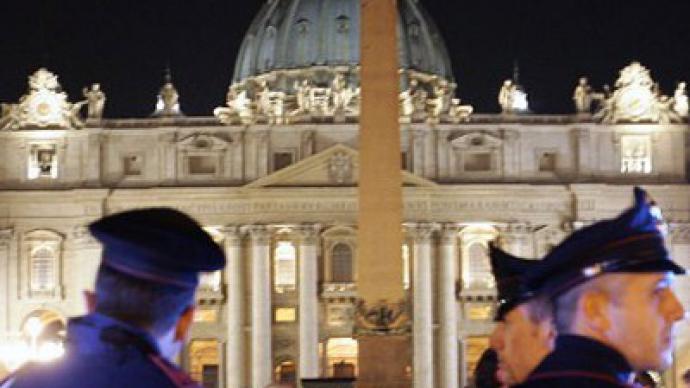 The Vatican Bank chief has been dismissed for reportedly leaking documents amid accusations of money laundering. The move comes as the Holy See, embroiled in a chain of financial scandals, is trying to deal with claims of corruption and fraud.
The president of the Vatican Bank Ettore Gotti Tedeschi has been ousted after receiving a unanimous vote of no-confidence from bank overseers. The economist, who presided over the institution since 2009, is under investigation by Italian magistrates for alleged money laundering. Gotti Tedeschi is seen as having failed to clean up the image of the bank, perceived as a symbol of the opacity and corruption scandal gripping the Pope's kingdom."The board passed a unanimous no-confidence vote against the president… and believes the action is important to maintain the vitality" of the bank, the Vatican said. The ex-chief declined to comment on his dismissal. He told journalists: "I'd rather say nothing, otherwise I'd say ugly things."However in remarks to Reuters, he said: "I have paid for my transparency."In 2010 Italian police launched an investigation against Tedeschi as part of a money-laundering inquiry, and the Vatican said then it was "perplexed and astonished", expressing full confidence in him.Now, the Huffington Post says the Vatican has been shaken by a row over leaked documents and has begun a criminal probe into the source of the leaks, besides setting up a commission of cardinals to look into the matter.Quoting an anonymous source familiar with the Vatican's investigation, the Huffington Post says the banker leaked confidential documents to serve his personal and political interests.Gotti Tedeschi, 67, was named president of the bank, known as the Institute for Religious Works, or IOR, in an effort by the Vatican to clear the institution's name.The Vatican has been in the midst of a scandal over tax fraud and money laundering for several years.In 2010, Pope Benedict XVI created a new financial authority to "prevent and oppose illegal financial activity," after an Italian court temporarily seized $33 million from the Vatican Bank as part of the inquiry into Tedesci's activities. The Pope has launched desperate attempts to wash off the corruption claims after the Moneyval, the Council of Europe's experts on anti-money laundering, set a deadline for the Vatican to prove it can be put on to the "white list" of financially virtuous countries. The body prepares to rule at the beginning of July on whether the Holy See has managed to clean up its act and meet international monetary standards on financial transactions.The Vatican Bank was created during World War II to manage assets destined for religious or charitable works and has seen several financial scandals in the past decades.
You can share this story on social media: