Valley of ancient pyramids discovered in China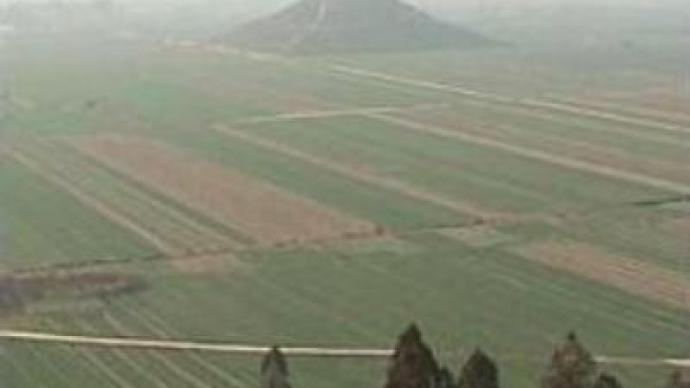 Three Russian travellers say they have discovered the eighth wonder of the world in the valley of ancient pyramids in China. The Russians were the first Europeans to set foot there.
When the three friends from Russia's Far East learned on the Internet about the enormous man-made hills in Central China they immediately set off to see them. They wanted to find out if China's pyramids equalled those of Egypt or Mexico.
"We have found a valley of round stepped pyramids the science had no idea about. The most astonishing is that the pyramids are built after a clear pattern,"
says Vladimir Sidenko, Expedition member, Vladivostok.Almost no one outside China knows about the ancient landmarks. You won't find them in any travel guide. A local peasant says they are nothing but a tomb to an emperor.
"This is a tomb of an ancient emperor. It is 20 centuries old,"
says the peasant.The explorers wanted to record their findings on a map but something unexplainable happened.
"I do not believe in supernatural things but when we climbed one of the stepped pyramids we had terrible pulsing headaches, and Our GPS gadget pulsed at the same time,"
says Vladimir Sidenko.When the Russian travellers returned home they contacted professional archaeologists to discover exactly what they had found. As a result, a special team was sent to investigate.
"Yes, this is a sensation! Yes, that's interesting. But there are a lot of such places in China. It is a mysterious country!"
believes Nadezhda Artemyeva, History and Archaeology Centre, Vladivostok.Now the travellers say searching for lost tombs has become their hobby. They are already getting ready for another expedition to find a snow-white pyramid in the wilds of China.
You can share this story on social media: