US Syria mission still possible - but at what price?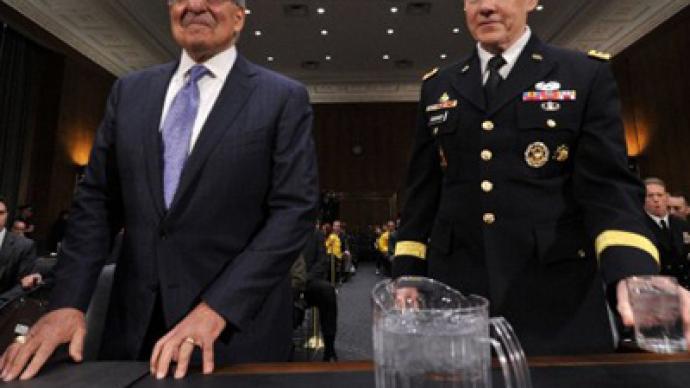 Top US military leaders are saying American forces will be ready if a decision is made on military action against Syria. Nevertheless, they will think twice before "putting their sons and daughters in uniform."
The Syrian crisis and the risks for US involvement were discussed on Wednesday on Capitol Hill in Washington, where US Defense Secretary Leon Panetta and Joint Chiefs Chairman Gen. Martin Dempsey testified before the Senate Armed Services Committee hearing.Among the military options, Dempsey envisaged the enforcement of a no-fly zone and humanitarian relief. Panetta added that other non-lethal assistance was also being considered.But Dempsey warned that a long-term air campaign would pose a challenge because Syrian air defense systems are a lot more advanced than those Libya had, and are mostly located in populated areas."They have approximately five times more sophisticated air defense systems than existed in Libya, covering one-fifth of the terrain," he said. "All of their air defenses are arrayed on their western border, which is their population center."Suppressing such air defenses would take an extended period of time and a significant number of aircraft. An effort like this could only be led by the United States, Dempsey explained. And given the location of Syria's air defenses, a potential military strike targeting them could mean scores of unintended deaths.Another complication, Gen. Martin Dempsey went on to explain, would be Syria's "chemical and biological weapons stockpile," which is "100 times larger than Libya's."Testifying before the committee, Leon Panetta said that Washington was considering "all possible additional steps" including "potential military options" in Syria, but given the abovementioned complications, he stressed that the Obama administration was focused on "diplomatic and political approaches rather than a military intervention."The hearing involved a tense exchange between Panetta and leading Republican Senator John McCain, the media report. The latter insisted on immediate air strikes against Syrian government forces. He cited President Bill Clinton's actions during the Bosnian war in the 1990s as an example.Panetta resisted McCain's calls, saying that before he recommends putting American "sons and daughters in uniform in harm's way", he would have to make sure that it is clear what the mission is."I've got to make very sure that we know whether we can achieve that mission. At what price? And whether or not it will make matters better or worse?" the US defense secretary responded.
While Washington remains indecisive, there is still room for diplomacy in solving the Syrian crisis, Fergus Hodgson, a policy advisor with The Future of Freedom Foundation told RT.
"The Syrians are willing to negotiate on the margins. There is diplomatic room on the fringes," Hodgson said, warning that the idea of invasion may halt the negotiation process.
Already there?
With all that, previous reports suggested that US forces had already landed on the Jordan-Syria border. A former translator with the FBI, Sibel Edmonds, wrote in December that American soldiers were among the NATO troops there training militants to overthrow the regime of President Assad. She also said that they were training Turkish troops as well, possibly to launch a strike from the north of Syria.A hacked email from leading private US intelligence agency Stratfor also suggests that undercover NATO troops are already in Syria.Moreover, a recent security operation in Homs revealed that Mossad, the CIA and Blackwater were involved in the military violence in this part of Syria. Over 700 Arab and Western gunmen were detained in Baba Amr district, while Israeli, American and European-made weapons were confiscated.On top of that, Lebanon's Daily Star newspaper recently reported that 13 French officers had been captured by the Syrian Army. According to their source, this happened in the Syrian city of Homs, and the officers are now being held in a field hospital. The source claimed that the French and Syrian governments are locked in negotiations over the fate of the men, though no official confirmation has followed from either side.Western powers have categorically denied military involvement in Syria's internal conflict, for which they have no international mandate.
You can share this story on social media: