US Department of State: still tightlipped over freedom of speech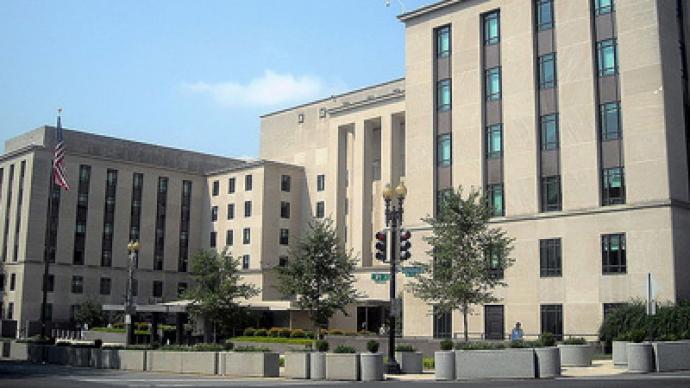 An RT crew was locked up in a US jail for 32 hours after they covered a rally near the so-called "school of assassins" in the state of Georgia.
Correspondent Kaelyn Forde called the handling "brutal" and international organizations condemned use of police violence against members of the press. But despite all the outrage, the mainstream media has remained silent over the incident.It started off as a peaceful rally outside a US training camp for Latin American military and police officers. What followed this nonviolent protest caught everyone by surprise: dozens were arrested. Police targeted journalists along with the activists.Among those arrested were RT correspondent Kaelyn Forde and RT cameraman Jon Conway, both there on assignment covering the protest that brought together thousands of people."They put the handcuffs so tight that I couldn't move my fingers," Kaelyn told RT when she was released. "I asked the officer to please remove the handcuffs – these plastic handcuffs – and at least to put one on that would be a little bit looser. He took out a hunting knife, and that's actually part of the reason that I have cuts on my wrist."For hours Kaelyn did not have a clue what the charges against her were."We asked on the bus what we were being charged with, and one of the sheriffs said: 'Don't worry, no charge, the ride is free…' We were taken to the county jail and ended up spending 32 hours there," the RT correspondent continued.Tammi Ramirez, a student who was there to protest, tells a similar story:"I kept asking them: 'What did I do?Tell me my rights. Tell me why I'm getting arrested.' I never got an answer from them," she said.Every year thousands of people gather at the gates of the training camp, dubbed the "School of Assassins," calling for its closure. Officially they are to train Latin American military and police. The protestors claim it has schooled many of Latin America's most notorious torturers, mass murderers and dictators.Despite anger at the establishment, violence has never marred the protests, so why the mass arrests?"We feel like the message was: 'Look, we don't want you to be here… we're going to make it dangerous, to make you think twice to even show up," explained Lisa Sullivan, one of the protestors.Despite the outcry from many at the rally that their rights to freedom of speech and assembly were trampled upon, it is not a story that has caught the eye of the US media."We can see the newspapers in this country editorialize in favor of free speech and the First Amendment, give stirring and passionate defenses of these core American values," said Peter Hart from Fairness and Accuracy in Reporting. "But when a journalist from another media outlet is arrested without charge, without provocation and put onto a paddywagon, those media outlets are largely silent.""And I think it's because they feel like these are stories that are not supposed to be covered," he concluded.The incident at Fort Benning left some guessing: what would have been the scope of the media coverage in the West had member of a foreign press been treated in a similar way in some other country… say, Russia?CrossTalk host Peter Lavelle explains:"Let's say in Moscow a BBC correspondent, or a CNN correspondent, went to a demonstration where there was a legal permit, and was roughed up by the police. In the case of our correspondent, she was almost sexually assaulted – those were her words. That would make headlines all around the world. It would have been a diplomatic row between the countries. But not in the case of the United States," Lavelle stated.The international community has condemned what has happened and called on the US to respond. Even the Organization for Security and Cooperation in Europe sent a letter to Secretary of State Hillary Clinton calling the journalists' arrests "disturbing.""While it is clear that police play a crucial role in maintaining order during public demonstrations, the indiscriminate rounding up of media and bringing charges against them goes well beyond what is necessary to keep the peace," RIA Novosti quotes Dunja Mijatovic, an OSCE media freedom representative.But the US Department of State, which is usually quick to condemn freedom of speech violations in other countries, has remained surprisingly tight-lipped about violations on its own soil.
You can share this story on social media: