Last remaining US surge troops leave Afghanistan
Published time: 21 Sep, 2012 22:07
Edited time: 22 Sep, 2012 02:07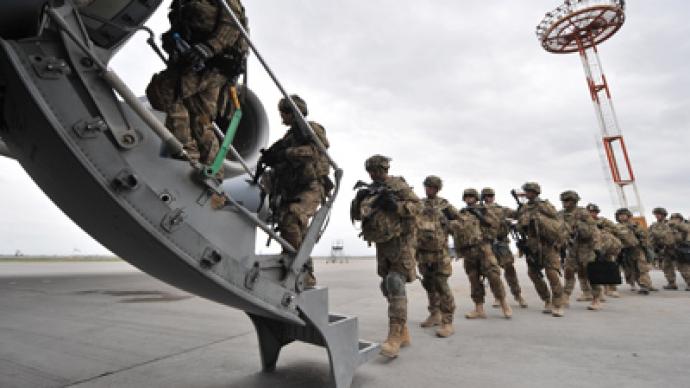 The last of the 33,000 troops sent to Afghanistan by President Obama in 2009 have now left the country, the Pentagon has announced.
The forces were initially sent to Afghanistan on a mission to help reduce the increasing number of attacks by Taliban insurgents. The Obama administration developed a withdrawal plan where 10,000 troops would leave Afghanistan by July 2011 and the remaining 23,000 would leave by the end of this month.
With the departure of the surge troops, there are now 68,000 US forces left in Afghanistan, Secretary of Defense Leon Panetta has told reporters. The president plans to pull out all conventional combat forces by the end of 2014, leaving just a few special operations forces and trainers.
Last year, US forces in Afghanistan peaked at about 101,000.
"As we reflect on this moment, it is an opportunity to recognize that the surge accomplished its objectives of reversing Taliban momentum on the battlefield, and dramatically increased the size and capability of the Afghan National Security Forces (ANSF)," Panetta said in a statement announcing the end of the surge.
The defense secretary said the mission accomplished its objectives by reducing the influence of terrorists in a country plagued with insurgents.
"We have struck enormous blows against al-Qaeda's leadership, consistent with our core goal of disrupting, dismantling and defeating al-Qaeda and denying it a safe-haven," Panetta continued.
But the withdrawal comes at a time when the security transition to Afghan forces is in trouble. Insurgents have been attacking US and NATO forces while dressed in the uniforms of the Afghan Army and local police forces, the Associated Press reports. While some military commanders say that broad gains have been made against the Taliban, other military leaders have expressed concern about the impact of the insurgent attacks on US troops.
This year, infiltrators dressed in Afghan security uniforms have killed 51 coalition troops.
Panetta described these attacks as the "last gasp" of the Taliban, but Gen. Martin Dempsey, chairman of the US Joint Chiefs of Staff, said they are a "very serious threat."
"It strikes right at the heart of our resolve," said Australian Brig. Gen. Rober Noble in a teleconference reported by AP. "It's one thing to be killed in action by the insurgents. It's quite another to be shot in the back of the head at night by your friends."
Meanwhile, military equipment is also being shipped out of Afghanistan. According to Lit. Gen. John Terry, commander of the ISAF Joint Command, half of the 60,000 pieces of rolling stock and another 30,000 containers have been shipped out.
Gen. John Allen, top NATO commander in Afghanistan, said he will recommend how many more US troops should leave the country in 2013, come mid-November.