Destination Persian Gulf? US nuclear sub and destroyer enter Red Sea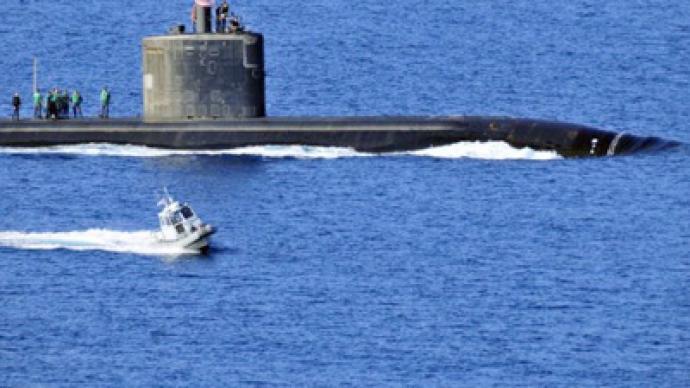 Two ships of the US Navy, the nuclear submarine USS Annapolis and the destroyer USS Momsen have passed through the Suez Canal into the Red Sea. Although their destination is confidential, they are now getting dangerously close to the Persian Gulf.
The ships' passage was a major operation for the Suez administration as due to safety reasons they had to close off the canal to all other traffic and even shut down the bridge, disrupting the link between the banks for some four hours. The traffic on the roadways alongside the canal was also restricted, Interfax news agency reports.There are no reports regarding the destination of the vessels, but the news come amid the ongoing crisis in the relationship between the US and Iran. There is mounting speculation that the Annapolis and the Momsen are heading to the Persian Gulf to reinforce the US naval forces already present in the region.Currently the US has two aircraft carrier groups in the region headed by USS Abraham Lincoln and USS Carl Vinson. It is expected that another aircraft carrier, USS Enterprise, will join the strike force in March.Since the EU placed a new round of sanctions on Iran by putting an embargo on Iranian oil, Iran is once again threatening to use military force to close the Strait of Hormuz. Meanwhile, a Kuwaiti maritime official said on Monday that the Gulf Cooperation Council group of Arab countries have contingency plans for coastguards and naval forces should there be an attempt by Iran to shut down the Strait of Hormuz.
'US imperial agenda is now concentrating on Iran'
Tehran has offered IAEA officials the chance to extend their mission and says it is ready to prove its atomic ambitions are peaceful. But Ralph Sсhoenman, the host of radio program 'Taking Aim,' told RT that IAEA's quest in Iran is hopeless."I say hopeless because the United States and the European capitalist spouse will always up the ante," Sсhoenman explained. "You can be absolutely sure that the reports back from one or more of these inspectors functioning as intelligence operatives will say: 'Well, there is evidence that they may be doing this and they may be doing that.'"Sсhoenman believes that the US "imperial agenda, which makes countries their targets in sequence, is now concentrating on Iran." "The very idea that Iran is somehow obliged to open its frontiers to inspectors who are essentially penetrated and permeated by the Central Intelligence Agency and Mossad expresses what I am attempting to say to you," he explained. "This is outrageous, this has no legitimacy and it should be repudiated and exposed for what it is."
Journalist and author Afshin Rattansi says that there are no reasons why Iran would need another visit from such a biased organization as the IAEA."There are cameras, surveillance equipment over all the different sites," he said. "The IAEA inspection regime, I think most analysts would say, is a front for a WMD [weapons of mass destruction] inspection that we have seen previously in that region."
You can share this story on social media: