U.S. should talk to Iran & N Korea: Blix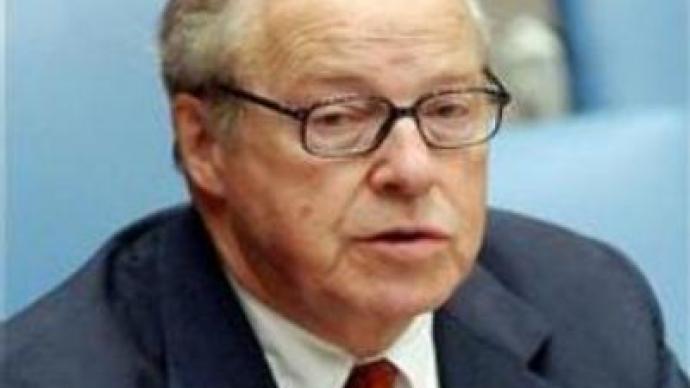 The former Head of the International Atomic Energy Agency, Hans Blix, has urged the United States to begin direct talks with Iran and North Korea. He made the comment during a Moscow visit.
Mr Blix, who's now the Head of UN Monitoring, Verification and Inspection Commission, was in the Russian capital to promote the Russian translation of his report into Weapons of Mass Destruction, which was first tabled by the UN last year.His report deals with how a state must react in case another state wants to build a missile defence system on its territory. He suggests direct talks between the U.S and Iran.Russia Today caught up with him to find out how Mr Blix knew about the U.S. plans beforehand.
"The missile shield that was already controversial at that time,"
he said.
"This is a difficult problem, and we are rather cautious in our judgement, suggesting that the countries that build it up should first hold negotiations for other countries that they are worried about. So in this situation, I guess, the conclusion from our report would be that the U.S. should talk to the Iranians, but they do not".
Speaking about whether he thinks there really exist a threat or not, Mr Blix said:
"The U.S. is saying that within 50-years-time Iran could become a threat. Well, anyone can be! Who would have predicted 50 years ago what Iran is today. Our recommendation is that there should be talks. We have several pages dealing with Iran and also with North Korea. Direct talks are the essential".
Commenting on the issue of whether the countries in favour of the missile shield succeeded in working towards co-operation and confidence-building measures before any missiles are deployed, Hans Blix said that they seem to have a sense they failed in doing that:
"The latest moves from the U.S side to come to Moscow and to discuss the issue, to explain why they are doing this and to say that there is no threat to Russia – the U.S. is aware that these moves failed. I do not know whether it actually can be made good, because it is also an emotional and psychological issue".
The full length version of Mr Blix's interview with Russia Today read in RT guests section.
You can share this story on social media: