"US should freeze deployment of anti-missile systems in European countries"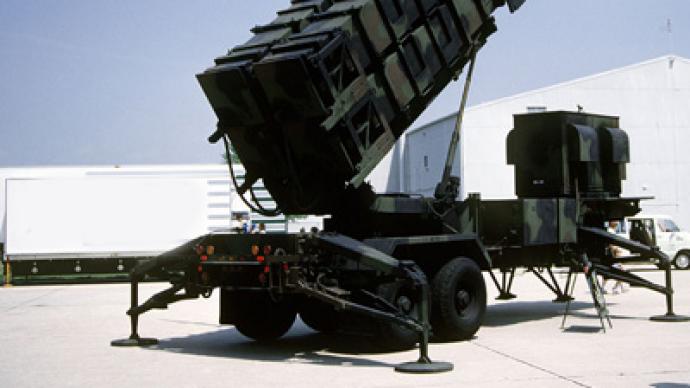 Russia is pushing hard for a joint European missile defense system with NATO, a system which is spearheaded by the US. But as of late, Moscow has been complaining about lukewarm co-operation from its Western partners.
The US should freeze the current deployment of US anti-missile systems in certain European countries, Konstantin Kosachev, the head of the State Duma Foreign Affairs Committee told RT. At the G8 summit in France last week, Russia's president Dmitry Medvedev said the US could spark a new arms race if it keeps building its missile defense system in Europe. According to Kosachev, there are some ways to avoid this, though "nobody believes we will ever have a joint button to be pushed simultaneously by the two participants.""Number one is not to take any practical steps immediately to create a future global anti-missile system. Number two is to make a legally-binding agreement on the purposes of the future system and to ensure the US or NATO system will not be aimed at Russia. And number three is to start practical co-operation on exchange of information on missile launches and to introduce certain elements of joint commander on the future integrated anti-missile system," said Kosachev.Whether or not the US decides to keep building up its missile defense system and military potential in Europe, and Russia's response to that is a matter for the future negotiations, said Kosachev. "As for tactical nuclear weapons, Russia now does not have any tactical nuclear weapons outside its borders, while the US have deployed certain amounts of these armaments in five or six European countries, so the first step to be taken here is to get tactical nuclear weapons inside national borders of each country that possesses these types of weapons and, later on, start further negotiations. When that happens, Russia will be ready to enter the process," Kosachev said.Missile defense, along with its global implications, is to become one of the main issues at the meeting between Russian and the NATO defense ministers in Berlin on June 9, and also of the next summit of Russia and the European Union in Nizhny Novgorod on June 9 and 10.  Russia warned it would consider withdrawing from the latest Russian-American Strategic Arms Reduction Treaty, New START, if there was no progress."There was no sufficient progress in any of the cases because NATO countries in Europe are not ready to take on the expenditures for the expensive system. They want the US to spend their money on European security. And in the dialogue between NATO and Russia, we discuss all possible options. But as nobody knows how NATO will behave, we are not making any progress here either," Kosachev believes.
You can share this story on social media: