U.S. plans new security offensive in Iraq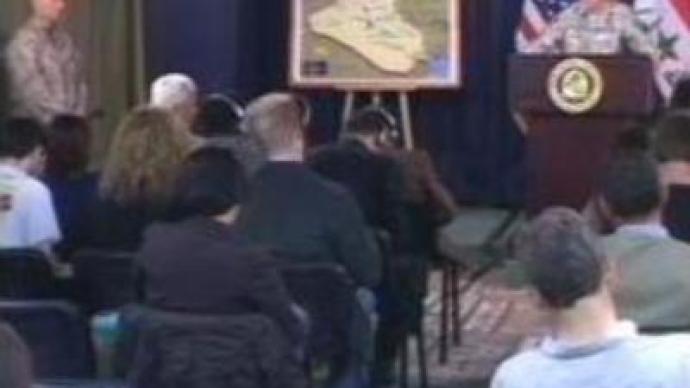 The U.S.-backed Iraqi security crackdown in Baghdad will take months, according to the new commander of U.S. forces in Iraq. General David Petraeus added "sensational" sectarian attacks are expected in the short term.
General Petraeus took command of U.S. troops in Iraq last month at a critical time, having been appointed to oversee President Bush's new strategy in Iraq, focusing on halting the daily carnage of suicide bombings and death-squad killings in Baghdad.But his first news conference since taking command of U.S. forces comes after two bloody days in the city. Close to 150 Shi'ite pilgrims were killed in the Iraqi capital, many more wounded as suicide bombers targeted a holy shrine filled with thousands of Muslim faithful.David Petraeus admitted insurgent attacks are intensifying, despite a 3-week-old security crackdown by U.S.-led forces.
"It is not in our power to turn back the clock to the day before the Al Aqsa mosque was bombed. We can, however, in partnership with our Iraqi colleagues, help improve the security situation and enable the Iraqi people to control the demons responsible for the vicious sectarian violence of the past year. Demons that tore at the very fabric of Iraqi society,"
said General Petraeus. But despite the recent bloodshed, the U.S. commander said the level of sectarian killings and displacement had fallen in the region over recent weeks. He also stressed that military force alone is "not sufficient" to end the violence in Iraq and political talks must include some militant groups now opposing the government.
"Military action is necessary to help improve security for all the reasons that I stated in my remarks, but it is not sufficient. Political resolution of various differences, of this legislation, of various senses that people do not have a stake in the successes of a new Iraq and so forth – that is crucial,"
General Petraeus explained. There are currently around 140,000 troops serving in Iraq. And the Pentagon has now approved more than 2,000 military police, to be deployed in Baghdad, to help with the security crackdown. That's in addition to the 21,500 troops promised by President Bush, to help the Shi'ite-led government of Prime Minister Nuri Al-Malik
You can share this story on social media: