U.S. nuked Iraq during Gulf War - report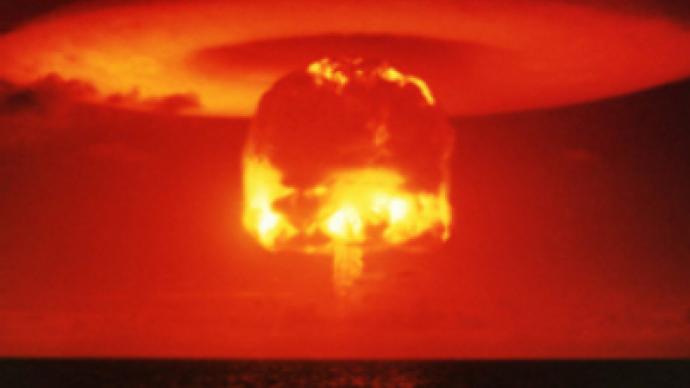 An American war veteran has claimed that the U.S. dropped a nuclear bomb during the last days of the first Gulf War in Iraq in 1991.
Jim Brown, a mechanic in the U.S. Army's 10th Mountain Division at the time, told Italian channel RaiNews24 that coalition forces dropped a 5-kilotonne nuclear bomb in a deserted area near the city of Basra.
The bombing allegedly took place in February 27, the last day of hostilities.
The news channel says it investigated the claims and decided to report on them after learning about data from the UK-based International Seismological Centre. It showed an event registered on the date in question that could have been consistent with a five kilotonne explosion.
In a 30 minute programme on the accusations, RaiNews24 showed an interview with Iraqi doctor Jawad al-Ali who heads the Oncology Centre at the largest hospital in Basra. He said the number of tumours in Basra increased from 32 in 1989 to 600 in 2002 and believes the surge was caused by massive use of depleted uranium munitions during the war.
The United States Central Command told Italian reporter Maurizio Torrealta that no nuclear weapons were used during the Gulf War in 1991. They suggested a conventional bomb dropped on the day, like the BLU-82 Daisy Cutter, could have been recorded by seismologists.
Gulf War
The operation 'Desert Storm', which the media widely referred to as the Gulf War, was a military operation of a 34 country coalition led by the U.S. against Iraq. It followed the Iraqi invasion into neighbouring Kuwait over alleged stealing of oil in border territories.
The operation is seen by many military experts as pivotal for the way warfare is done. Coalition forces relied heavily on air strikes with precision weapons on Iraqi targets, thus avoiding direct ground combat. The war also had unprecedented coverage in the media.
BLU-82 Daisy Cutter

The BLU-82 was a 6800kg bomb originally designed to create jungle clearance during the Vietnam War. Later it was used as an anti-personnel and intimidation weapon due to its explosion with a huge flash and sound.
A total of 11 of these bombs were used during the Gulf War. Now BLU-82 is not used by the U.S. military, with the last one dropped in July 2008 at a test range.
Bush saved Iran from Israel's counter-nuke strike – report
'U.S. may use Georgian air bases to strike at Iran'
You can share this story on social media: