US envisions NATO of the Gulf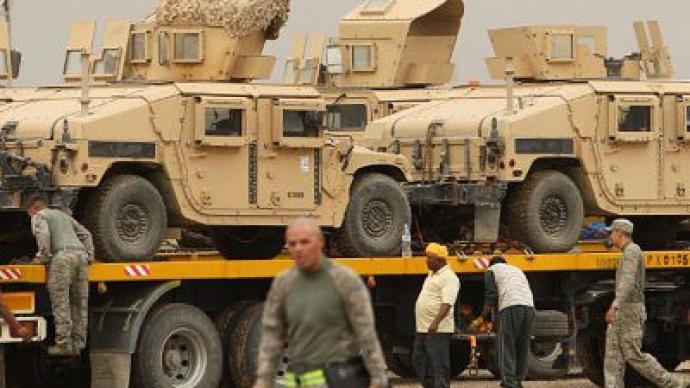 The end of the Iraq war will do little to sway America's desire to strengthen its foothold in the Middle East. As the US seeks to beef up its military presence in the Persian Gulf via a NATO-style military alliance, Iran has much cause for alarm.
After eight years of fighting, one trillion in US taxpayer dollars, and 4,481 US troops killed, Barack Obama is making good on his campaign promise to pull out the last remaining troops in Iraq by the end of the year.  But as regional allies believe a US reduction of troops could lead to "instability or worse," the US is busy working out a contingency plan to keep its grip on the region.According to a New York Times (NYT) report, the United States is seeking to "foster a new 'security architecture' for the Persian Gulf that would integrate air and naval patrols and missile defense."Secretary of State Hillary Rodham Clinton echoed this point recently while visiting Tajikistan:"We will have a robust continuing presence throughout the region, which is proof of our ongoing commitment to Iraq and to the future of that region, which holds such promise and should be freed from outside interference to continue on a pathway to democracy," she was cited by the NYT as saying. More specifically, while the Obama administration rebuffed Iraqi requests to keep up to 20,000 US troops on the ground past the end of the year, the NYT report noted the US is currently engaged in "negotiations over maintaining a ground combat presence in Kuwait," as well as "considering sending more naval warships through international waters in the region." The new plans could result in a security apparatus that would resemble NATO.Facing close to a half trillion dollars in defense spending cuts, the Obama administration's desire to expand military co-operation with the six nations of the Gulf Cooperation Council – Saudi Arabia, Kuwait, Bahrain, Qatar, the United Arab Emirates and Oman – will more than likely help the US spread the burden of both intelligence-gathering and more traditional combat operations while remaining firmly behind the wheel.  Speaking on condition of anonymity, a senior US official told the NYT: "It's not going to be a NATO tomorrow," but the idea is to move to a more integrated effort."And though it still might take some time to develop a highly complex alliance centering on collective defense for the region, with Qatar and the United Arab Emirates participating in the latest NATO-led campaign against Libya, this new "security architecture" will mostly likely expand to carry out a similar function throughout the Middle East. 
'Cut off the head of the snake'
When it comes to security in the region, few have any doubt that the target, as always, is Iran.  In a letter written to the chairman of the Senate's Armed Services Committee, 12 Republican senators argued  "the complete withdrawal of our forces from Iraq is likely to be viewed as a strategic victory by our enemies in the Middle East, especially the Iranian regime," as cited by the NYT.  In this context, the alleged plot to assassinate the Saudi Arabian ambassador to Washington on US soil could in fact provide the justification to step up its military presence and co-operation in the region even as the war in Iraq comes to an end.   Since leaked US diplomatic cables published in 2010 by WikiLeaks revealed that Saudi King Abdullah has "frequently exhorted the US to attack Iran to put an end to its nuclear weapons program," calls to invade Iran have only intensified among US hawks.  In the same vein, Adel al-Jubeir, the Saudi ambassador to Washington and would-be victim of the highly implausible Iranian assassination plot, went on to tell General David Petraeus in April 2008 that King Abdullah wanted to "cut off the head of the snake," as cited by Reuters.  Meanwhile, Iran has frequently called on the Gulf States to not allow the United States to divide and conquer the oil-rich Gulf.  Following revelations of the alleged assassination plot earlier this month, Iranian President Mahmoud Ahmadinejad said:"If the US administration is under the impression that by doing this it can create conflict between us and Saudi Arabia, then I have to say the US administration is sorely mistaken."He went on to state:"The US administration is not interested in Iran or in Saudi Arabia. They see their interests in having a dispute between Iran and Saudi Arabia – they want to dominate our region," as cited by Reuters.  However, as the latest move to isolate Iran via a new security apparatus begins to take shape, Iran has made overtures to other regional neighbors regarding military co-operation.  According to a report by the Iranian Labor News Agency (ILNA), Iran's Defense Minister, Brigadier General Ahmad Vahidi, said that Tehran is prepared to develop defense co-operation with North African countries such as Egypt, Libya and Tunisia, according to a report by the Iranian Labor News Agency, or ILNA, as reported by the Eurasia Review. It was also reported that in a meeting between Qatar's Prime Minister Sheikh Hamad bin Jassim bin Jabor Al-Thani and Iran's Foreign Minister Ali Akbar Salehi on Sunday, Al-Thani said that improved relations between Iran and Saudi Arabia would benefit the region as a whole.  "The Islamic Republic of Iran and the Kingdom of Saudi Arabia are big states whose relations should be good and in favor of us, the 'small states,'" Al-Thani was quoted as saying, as cited by the Eurasia Review.  However, as the United States moves towards integrating the six states of the Gulf Co-operation Council into a security alliance that would increase both US and Saudi domination in the region, Iran could very well find itself the next victim of a US-led "humanitarian intervention."
You can share this story on social media: