US applies 'double standards' in Manning case - Russian HR commissioner
Published time: 31 Jul, 2013 15:44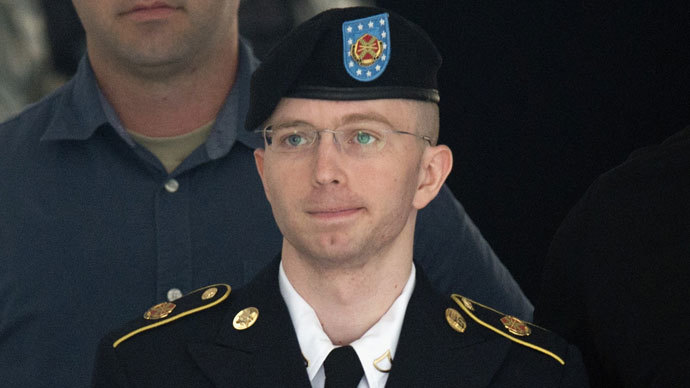 The US is 'applying double standards' in the case of Bradley Manning, acting in its own interests 'without paying attention to the observance of human rights' while slamming others for violating freedoms, said the Russian Commissioner for Human Rights.
The US blasts many countries around the world for violating freedom of speech, however when the interests of US authorities are affected, they "act toughly, resolutely, often without paying attention to the observance of human rights," said HR commissioner Konstantin Dolgov, according to Russian news agencies. 
"This double standard that we see in the US authorities' assessment of approaches to this situation [around Manning] raises questions. If you demand full observance of freedom of speech from others, in principle, you should apply this position to yourself. If the applied standard is different, this cannot help but cause complaints on the part of both other governments and human rights institutions," he continued.
Dolgov doubts that the US court will take into account international human rights while sentencing WikiLeaks informant Bradley Manning. On Tuesday, the army private was found 'not guilty' of aiding the enemy. However, he was found guilty of the 20 remaining charges filed against him, including espionage, computer fraud and theft charges. The army private, who leaked classified information including Iraq and Afghanistan battlefield reports and State Department diplomatic cables to the whistleblowing site, still faces the possibility of up to 136 years behind bars. Sentencing commences on Wednesday, although it could take a month to finalize the penalty.
"I think that [Manning's] sentence will not likely take into account the view the international human rights organizations," said Dolgov.
The Human rights commissioner stressed that the information leaked by Manning confirmed that the US military and law enforcement agencies often acted contrary to international law and standards.
"I would like to refer to the statement of Amnesty International where it was mentioned that there were no adequate measures taken by the US authorities regarding the evidence of torture by American soldiers, the information which was also leaked by Manning," Dolgov noted.
Russia has been closely following the situation with the army private, acknowledged the human rights commissioner. Doglov added that everybody without exception needs to perform their obligations, but "where there are no obligations - they should not."
When asked whether Manning's sentence will influence the position of the Russian Federation on the case of former CIA officer Edward Snowden, Dolgov said that he will have to see the final sentence first.
Edward Snowden has been holed up in Moscow's international zone for over a month as his documents were revoked by the US government. Washington has asked Moscow to 'return' Snowden, claiming the US has 'sent many people back to Russia.'
"When we are told, 'You have to return [Snowden], because we have returned [people]', there is still a big difference between extradition and deportation" the diplomat reiterated. Russia is faced with attempts to ascribe "non-existent obligations" to it, Dolgov noted.