U.S. launches new attacks on Al Qaeda in Somalia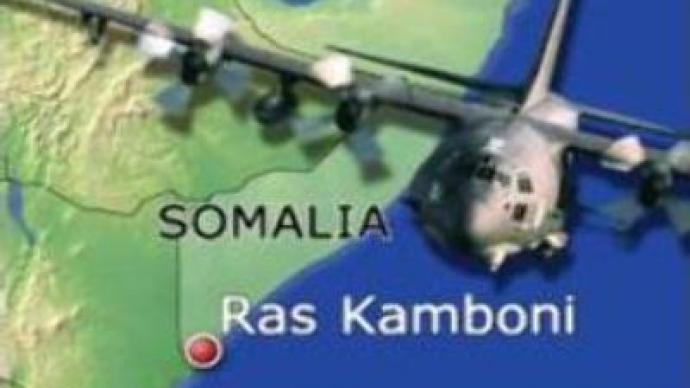 The U.S. Air Force has launched more attacks on suspected Al Qaeda cells in Somalia. It follows earlier air strikes by American gun-ships which reportedly left many civilians dead.
This action led to growing criticism from Europe and the United Nations who say the American intervention may make the conflict in the war-torn country even worse. Washington is pressing ahead with its hunt for Al Qaeda suspects in southern Somalia. U.S. planes attacked four areas close to the village of Ras Kamboni on the Kenyan border – that's where fugitive Islamists are thought to be holed up after being forced to retreat by Ethiopian-backed government forces. It's the latest in a series of strikes launched by U.S. gun-ships in the last few days. The Pentagon has confirmed only one air attack so far.
"I believe the Department of Defense has confirmed that on Sunday they did have an operation going after a high-level or senior Al Qaeda operative that was operating in Somalia,"
Sean McCormack, U.S. State Department spokesman said. U.S. intelligence officials believe the strike killed a top Al Qaeda suspect wanted for the US embassy bombings in East Africa in 1998. But according to Somali officials, many civilians also died in the strike leading to criticism from the European Union and UN Secretary General, Ban Ki-Moon, who made a statement through a spokesperson.
"The Secretary General is concerned about the new dimension this kind of action could introduce to the conflict and the possible escalation of hostilities that may result,"
United Nations spokeswoman Michele Montas stated. Critics of the U.S. intervention say it could misfire by stirring Islamist militancy. Residents of the capital Mogadishu woke up to rifle fire Wednesday morning. Gunmen attacked a base housing Somali and Ethiopian troops with rocket-propelled grenades, killing and injuring civilians. The Somali president is pledging to restore order to the war-torn country. But leaders of the Islamic movement have already vowed from their hideouts to launch a guerilla war in Somalia.
You can share this story on social media: