​Afghan toddler killed by US troops amid heightened tension over security pact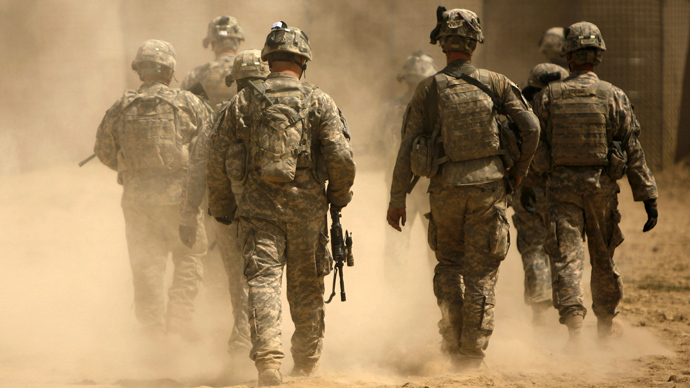 US forces stationed in Afghanistan accidentally gunned down a four-year-old boy, say local officials. The incident prompted a rebuke from President Karzai who is refusing to sign a security pact with the US unless it gives assurances of civilian safety.
Marines based in the violence-plagued province of Helmand mistakenly opened fire on the boy because of poor visibility, said local government authorities.
"As the weather was dusty, the marine forces based there thought he was enemy and opened fire. As a result of mistaken fire, he was killed," the spokesman for the governor of Helmand Province, Omar Zwak, told Reuters.
In response to the incident, NATO said an investigation into the matter would be launched immediately and that all possible measures were taken to avoid civilian casualties.
The four-year-old's death at the hands of American troops sparked a furious reaction from the Afghan President Hamid Karzai, who demanded an immediate end to all military operations on civilian homes and show a clear dedication to the peace process before a security pact is signed.
"We have called … for an absolute end to ISAF/NATO military operations on homes and villages in order to avoid such killings where innocent children or civilians are the victims," the president's spokesman, Aimal Faizi, said when commenting on the death of the boy.
Washington and Kabul are currently at loggerheads over a security pact that would see an American troop presence stay behind after the US's scheduled withdrawal in December. The Obama Administration has been ratcheting up the pressure for Karzai to sign the agreement after the December 31st deadline.
It argues that if the US does not leave behind at least 8,000 troops it could allow the Taliban to regain a foothold and plunge the country into "chaos".
The Afghan government has rejected these claims as "baseless" and intimated that there is an ulterior motive behind the security pact.
"We strongly reject that as baseless as they have in the past been proved inaccurate," Faizi told Reuters.
'No respect for Afghan life'
The issue of civilian causalities has been a bone of contention between the US and Afghanistan recently.
President Karzai decried US forces following an airstrike back in November that killed a small child and injured two women. In a furious rebuke he declared the strike that happened in Helmand province "reveals that American forces have no respect for Afghan lives."
He said that if such "cruelty" goes on, "the security pact will not be signed with America."
Washington took issue with Afghan leadership after Kabul announced the release of 72 prisoners the US deems "dangerous criminals" who are suspected of "terror-related crimes". The Afghan government said there was too little evidence to warrant a trial for the detainees and it could not allow "innocent Afghan citizens to be kept in detention for months and years without a trial for no reason at all."
You can share this story on social media: