Top US aide sent to soothe Israeli panic over Iran?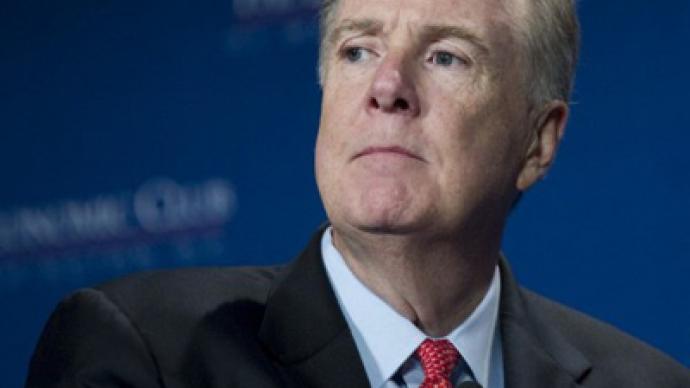 US President Barack Obama has sent his top security aide, Tom Donilon, to Jerusalem on a mission. Donilon's brief will likely focus on a single issue: Iran.
The United States and Israel have been drifting apart as of late over how to cope with a perceived Iranian nuclear threat.Information from Israeli officials suggests the country is preparing a military strike on Iran's nuclear facilities before they become too fortified. And the Israeli Defense Forces' General Uzi Eliam claimed this week that he was one of only a handful of officials who did not see a strike as a necessity.On the other hand, the US has stated commitment to a "two-track" strategy of sanctions and incentives to try and push Tehran off the nuclear path.Tensions in the Middle East escalated further Wednesday, when the Islamic Republic paraded its nuclear progress. President Mahmoud Ahmadinejad claimed that Tehran has installed new, faster centrifuges for uranium enrichment in the country's recently-built underground plant near the city of Qom. Though enriched uranium is a key ingredient in nuclear missiles, Tehran denies that it intends to build weapons.Showing a different side to its international strategy, this week Iran sent a letter to the international community saying it was "ready for dialogue" about its nuclear program. The US and EU have both welcomed letter, but Secretary of State Hillary Clinton says Iran needs to show "sustained effort."The last attempt at talks ended in failure a year ago.Israel has not responded to Iran's diplomatic overtures, and some officials have dismissed the proposed talks as a way for Tehran to buy time as it races on with its nuclear program. The intrigue has led to further speculation from international officials like UK Foreign Secretary William Hague, who in a Saturday interview said Iran's nuclear program threatens to lunge the Middle East into "a new Cold War."And instead of responding to Iran's overtures, Israeli Defense Minister Ehud Barak has called for the US and others to "ratchet up the sanctions, before the Iranians enter the immunity zone." The "immunity zone" refers to a time when Iranian facilities will be shielded sufficiently well that they cannot be reached even by Israel's bunker-busting bombs.Earlier this month, the New York Post reported that US Secretary of Defense Leon Panetta believes Israel is planning to strike as early as April, and no later than June. Meanwhile, Barak refuses to speculate about specific attack dates.The Post article also claimed that both President Obama and Panetta "have cautioned the Israelis that the United States opposes an attack, believing that it would derail an increasingly successful international economic sanctions program and other non-military efforts to stop Iran from crossing the threshold."Hague has also said that an unsanctioned military operation would have "enormous downsides."Yet with new developments coming in almost daily, Tel Aviv's patience may well run out, forcing Israel to go it alone – without even the approval of their closest allies. As for the others, it seems unlikely that the West would refuse Iranian negotiators at least one more chance to thresh out a deal."We, the United States, have all options on the table," said Panetta.It is not known whether Donilon is expected to shift Israel's position, or merely improve communication between the allies during his two-day trip, but major decisions are expected when Israeli Prime Minister Benjamin Netanyahu visits the US early next month.
Igor Ogorodnev, RT
You can share this story on social media: