U.S. has no authority to criticise us: Russian HR Ombudsman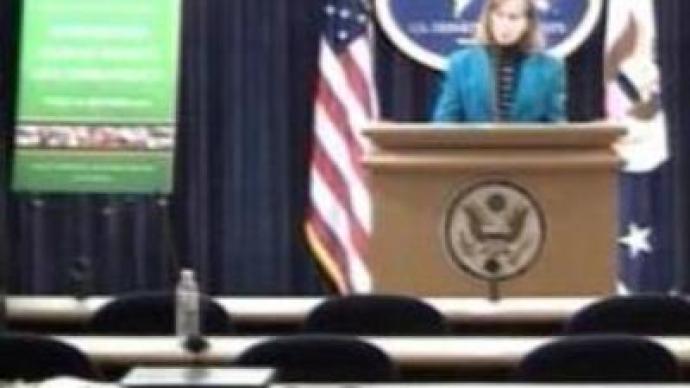 The U.S. has been criticised by Russia's Human Rights Ombudsman, for a report which accuses the country of continuing to centralise power. Vladimir Lukin says foreign states have no right to release such studies.
Mr Lukin believes such studies are the privilege of NGOs and special institutions.
"Why should the State Department get involved in this issue? This should be taken care of by the Human Rights Commissioner, by international and domestic NGO's but not by a foreign state. Can you imagine the Russian Foreign Ministry publishing a report on the human rights in the U.S. or Germany or in any other country? I believe, we should not confuse the issue of human rights with matters of international politics,"
stressed Vladimir Lukin. The U.S. State Department released the latest report shows what the U.S. is doing to promote human rights. The department contributed $ US 1.2 BLN last year to promote human rights around the world, with much of that money going to NGO's. Russia is one of the countries singled out as restricting the freedom of NGO's. The report notes that the new Russian laws on NGO registration had an adverse effect on their operations.
"There are worrisome features, but what you saw in the law is similar to what you see in other countries, say in Western Europe. So there is less concern on the law itself than how it might be enforced on the local level. There might be some concerns that some overzealous bureaucrats could use it as an excuse to exclude people, troublesome NGO's that they just do not want to deal with,"
said Richard Weitz, Senior Fellow, Hudson Institute. While the U.S. State Department continues to criticise Russia for human rights abuses, particularly in Chechnya, some experts question the validity of the report, and pointing out that the report does not provide data on the U.S. Government itself, therefore ignoring the Guantanamo Bay prison, attacks on civilians in Iraq, and the CIA's secret prison programme.
"It is problematic because the U.S. is not covered. And Russian President Vladimir Putin himself identified certain areas of concerns the Russian government has in Guantanamo, he specifically called that a major human rights abuse, he has expressed concern about the situation in Iraq, particularly how it has been affecting Russian diplomats in the past, and other areas. It would be difficult for the State Department to review human rights practices in the U.S., because by definition it is not supposed to deal with the U.S.,"
Richard Weitz said. Experts say that the latest U.S. State Department report outlining human rights abuses will not severely impact U.S.-Russian relations, but with tensions between the two countries already running high, senior U.S. officials argue that maintaining dialogue with their Russian counterparts may clear up some of the differences
You can share this story on social media: