US flies three final Chinese ethnic Uighurs from Guantanamo to Slovakia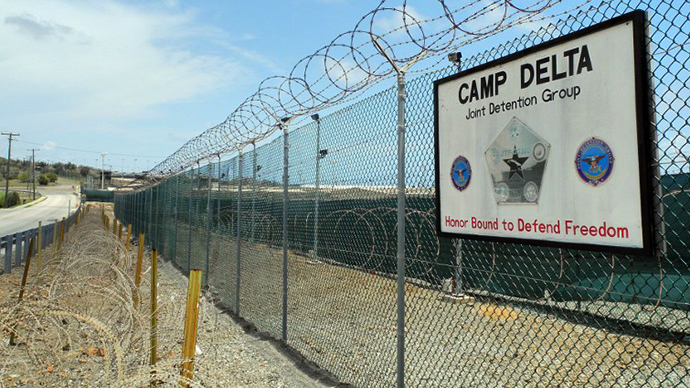 Three Chinese Gitmo detainees have been transferred to Slovakia in what the US termed a milestone in the mission to finally close down Guantanamo bay prison. One hundred and fifty five prisoners, however, still remain at the prison.
The ethnic Uighurs Muslim detainees were flown to Bratislava from the US military prison on the island of Cuba, according to an announcement made by Pentagon and State department officials on Tuesday. Yusef Abbas, Saidullah Khalik, and Hajiakbar Abdul Ghuper volunteered to resettle in Slovakia. The country accepted three former inmates in 2010.

Twenty-two Chinese Uighurs had been imprisoned at Guantanamo after being captured by US forces in Afghanistan, according to a Wikileaks-published prisoner list. Six have already been sent to Palau, a pacific island, and 11 others have been dispersed between Bermuda, Albania and Switzerland.

While none of the detainees were deemed terror suspects, the US was unable to repatriate the Uighurs as the Chinese government has a history of mistreating the group as the central Asian border region of Xinjiang has been home to some ethnic unrest. Some were believed to have had weapons training at an Afghan camp, according to the US.

A judge ordered the release of the remaining three in 2008, they were held at the prison camp because of problems in finding somewhere that would actually take them. The US government expressed its gratitude to Slovakia for its 'humanitarian gesture', Rear Adm. John Kirby, the Pentagon press secretary, told the New York Times.

Nine detainees have left Guantanamo in December, and 11 since last summer. In April US President Barack Obama expressed his wish to renew efforts to close the prison, which has held prisoners since 2001, starting out with some 750.

In February, many of the men being held at the Guantanamo Bay detention facility launched a hunger strike against camp conditions. It was sparked by disrespectful treatment of the Quran. One month into the strike, attorneys for the men, many housed at the facilities infamous Camp 6, said the number refusing food had reached 100.

Following intense efforts to break detainees' spirits, the number of strikers dwindled to 15 by December. That month, the US military announced it would no longer disclose information about the hunger strikes, saying its release "serves no operational purpose".
You can share this story on social media: