US issues global travel alert over al-Qaeda attack threat
Washington has issued a worldwide travel alert, warning US citizens about the "continued potential for terrorist attacks" in the Middle East and North Africa. The announcement comes as the anniversary of the US consulate attack in Benghazi approaches.
Officials said that the threat appeared to be related to al-Qaeda and Ramadan, the Muslim month of fasting, which ends on Wednesday. But the travel alert is applicable to all Americans until August 31.
"The Department of State alerts US citizens to the continued potential for terrorist attacks, particularly in the Middle East and North Africa and possibly occurring and emanating from the Arabian Peninsula," the statement read.

Current information suggest that al-Qaeda and affiliated organizations continue to plan terrorists attacks booth in the region and beyond and they may focus efforts to conduct attacks in the period between now and the end of August."  
The State Department urged American travelers to take extra precautions when traveling abroad and suggested they should sign up for State Department alerts and register with US consulates in the countries they are visiting.

The warning cities dangers involved with public transportation systems, such as subways, railways, boats and airplanes, which are prime sites for tourists.
Dutch Ruppersberger, the top Democrat on the house intelligence panel, backed the decision to go public.
"Intelligence is probably the best defense against terrorist attacks. So we put people on notice and we also put the other side on notice," said Ruppersberger.

Over 20 embassies, consulate services to be closed

Earlier, the State Department said an unspecified number of US embassies and consulates in Muslim countries will be closed for a day or more due to a "specific threat".
"We have instructed all US embassies and consulates that would have normally been open on Sunday to suspend operations, specifically on August 4th," the BBC cites State Department spokeswoman Marie Harf has been quoted as saying.
"Security considerations have led us to take this precautionary step," Harf told reporters adding that additional days of closing are not ruled out as the threat is still being assessed. 
At least 21 embassies and consulate services have been affected including those in the UAE, Egypt, Libya, Yemen, Saudi Arabia, Iraq, Afghanistan, Kuwait and other countries. Among the embassies suspending their operations are several large US diplomatic facilities which house substantial American military contingents.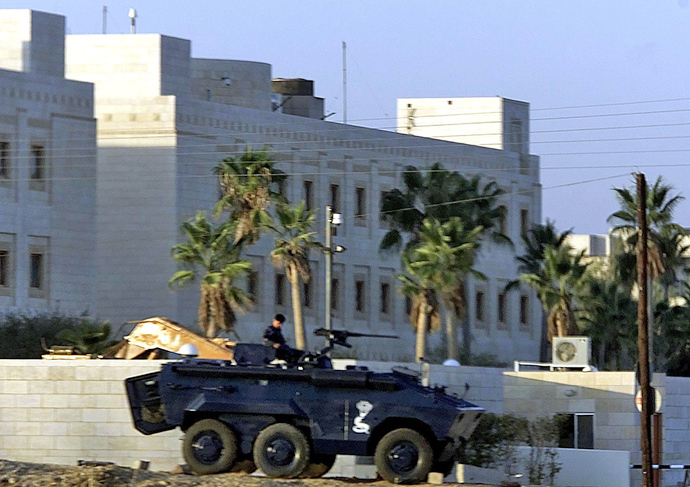 The chairman of the House of Representatives Foreign Affairs Committee said the threat appears to be linked to al-Qaeda.
"It's my understanding that it is al-Qaeda linked... and the threat emanates in the Middle East and in Central Asia," Representative Ed Royce said on CNN's New Day.

Royce added that he and several other lawmakers met two days ago with Vice President Joe Biden on the threat, "and as you know we're going to take whatever steps necessary to protect our personnel overseas. When we do have an indication of a threat, we take that seriously."
Though senior State Department officials declined to specify the region where diplomatic missions are being threatened, Sunday is only a working day in Muslim countries and Israel, whereas diplomatic missions are closed in other parts of the world over the weekend.  
The threat is believed to extend to countries in the Middle East, North Africa and other South East Asian states. Also, next week will culminate in the end of the holy Muslim month of Ramadan, marked by the holiday of Eid.
Nearly one year ago an anti-Islamic American-made movie sparked violent protests throughout the Muslim world. Islamic extremists capitalized on public outrage to organize popular unrest in many Muslim countries on the anniversary of the September 11, 2001 terrorist attacks on American soil. 
In Libya, an Islamist riot was used as cover to launch an organized assault on the American consulate in Benghazi, which left four Americans dead, including ambassador Christopher Stevens.
You can share this story on social media: