US drone strikes 'could be war crimes' and set risky precedent - UN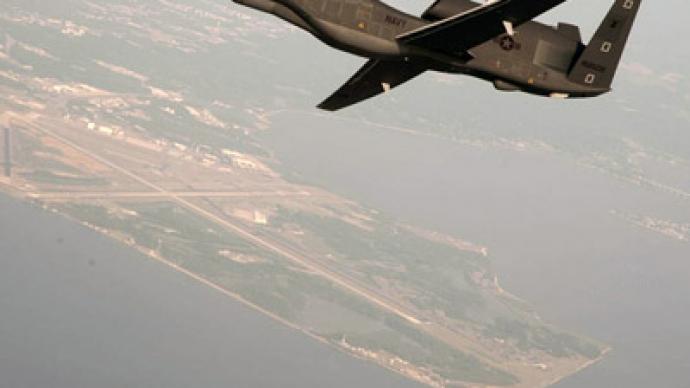 The use of drone strikes by the US to combat terrorism flouts international law and may encourage other nations to follow suit, a UN rapporteur says. He stressed that some of the attacks may constitute war crimes.
Christof Heyns, the UN special investigator on extrajudicial killings told a UN conference in Geneva that the US needs to be held legally accountable for the use of armed drones. "Are we to accept major changes to the international legal system which has been in existence since World War Two and survived nuclear threats?" he said.He also requested that the Obama administration publish statistics on the number of civilian deaths caused by strikes on suspected terror leaders in Afghanistan, Pakistan and Yemen. "I don't think we have the full answer to the legal framework, we certainly don't have the answer to the accountability issues," he told reporters at the UN Human Rights Council meeting.He underlined the fact that recent US drone strikes threatened the rule of international law in that many "targeted killings take place far from areas where it's recognized as being an armed conflict." Heyns added that drone strikes may be legally justifiable in conflict zones such as Afghanistan. He went on to say however that if "there have been secondary drone strikes on rescuers who are helping [the injured] after an initial drone attack, those further attacks are a war crime."Lampooning the US stance that targeted strikes are a legitimate response to the 9/11 attacks orchestrated by Al Qaeda he said "it's difficult to see how any killings carried out in 2012 can be justified in response to [events] in 2001. Some states seem to want to invent new laws to justify new practices."The US argues that its drone strikes are highly effective at combating insurgency abroad and do not violate international law. However, Washington has come under fire recently for multiple drone incursions that killed dozens of civilians in Pakistan and Afghanistan.Both China and Russia issued statements to the UN Human Rights Council this week condemning the US use of drone strikes.
US setting a dangerous precedent?
UN investigator Heynes voiced fears during the two-day meeting that other countries may also adopt the American strategy for justifying drone incursions."My concern is that we are dealing here with a situation that creates precedents around the world," said Heyns.The American Civil Liberties Movement (ACLU) told the UN Human Rights court on Wednesday that "the United States has cobbled together its own legal framework for targeted killing, with standards that are far less stringent than the law allows."Figures published by ACLU estimate that about 4,000 people have fallen victim to US drone raids since 2002 in Yemen, Pakistan and Somalia. The investigations show a large part of the casualties were civilian and that numbers have increased dramatically since Barack Obama assumed the presidency.
You can share this story on social media: