Stepped-up US drone strikes in Yemen spark massive protests
Thousands have taken to the streets of Yemen to protest deadly US drone strikes which killed dozens of people over the last two weeks, Iranian media reported. Critics say Washington's secretive policy is only pushing Yemenis to favor radical groups.
Anti-US demonstrations held in several cities across Yemen over the weekend gathered thousands of people, FARS news agency reported.

The Yemeni capital of Sana'a on Saturday saw crowds of chanting protesters outraged by the American policy of targeted killings. Protesters said the attacks, which are carried out by means of remotely controlled unmanned aerial vehicles – otherwise known as drones – frequently kill innocent civilians instead of militants.

According to Press TV, the Houthi movement has been among those actively protesting. Members of the group say they are "campaigning to raise public awareness" on how the US drone policy affects the safety of Yemenis and the country's stability. The Houthis are members of the religious Zaidi Shia group which is known for its anti-government and anti-American views, as well as its anti-Al-Qaeda sentiments.

Condemning what they call a "US intervention," many of the protesters in Yemen also believe the strikes blatantly violate the country's sovereignty, and demand their own government to stop supporting foreign interests.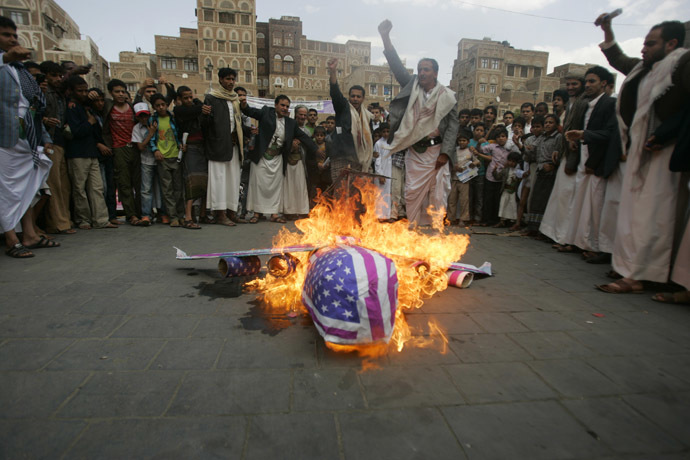 However, President Abd-Rabbu Mansour Hadi's August visit to Washington showed that the Yemeni government only keeps strengthening ties with the US. Hadi's visit also coincided with a surge in US drone strikes on suspected members of the Yemen-based militant group Al-Qaeda in the Arabian Peninsula (AQAP).

At least 37 people were killed in drone strikes in Yemen during two first weeks of August, with locals claiming that many of them were civilians.

Since 2002, US drone strikes in Yemen have claimed the lives of up to 860 people, according to the British Bureau of Investigative Journalism. Most of the strikes were carried out under President Obama. It could not be verified how many of those killed were in fact Al-Qaeda militants.

In September 2012, one such strike in eastern Yemen killed 13 civilians, including women and children. Several US officials were quoted as saying the drone apparently missed the intended target, but no official apology or acknowledgement of the mistake followed.

According to locals, representatives of AQAP offer to pay the funeral costs of those killed and heolp rebuild destroyed buildings.

Yahya Qasseb bin Sahl, a law professor at Aden University, told Reuters that he believes the drone strikes "channel the Yemeni street's feelings in favor of Al-Qaeda." Moreover, the ramped-up attacks will inevitably affect President Hadi's popularity, he added.

Increasingly more Yemenis have become disillusioned with Hadi's foreign policy, some viewing it as a direct continuation of the agenda of his predecessor Ali Abdullah Saleh, who was forced to step down after 33 years of power during Yemen's Arab Spring uprising of 2011.

Washington's humanitarian support and military aid is indeed crucial for Hadi, as the country is still struggling with its weak oil-dependent economy, rampant unemployment, and lacking security forces. The US allocated $345 million to Yemen in 2012 and is expected to give another $250 million in both 2013 and 2014.
'Much more than a security threat'
Not all senior Yemeni politicians believe that the US drone program is actually capable of reaching its goal in fighting the Al-Qaeda threat. There is no way the targeted strikes alone could be a "viable solution" to the problem of terrorism, Rajeh Badi, an advisor to Yemen's prime minister, told RT.

"It does not simply come down to how many deaths have been caused by the drones… A successful strategy cannot rely on sheer military force alone, because it is much more than a security threat," Badi said.


He added that if drone strikes were capable of putting an end to terrorism, it would have already been extinguished in countries like Pakistan and Iraq.

"The underlying causes of terrorism are in the political, social, educational, and mostly economic problems of our country. We believe that bloodshed can only lead to more bloodshed, therefore drone strikes cannot be a viable solution to this problem," the government official said.
US public deprived of 'informed decision' on drones
Recent US surveys claim to be showing that as many as 65 percent of Americans support the use of drones to kill suspected militants abroad, while roughly the same percentage of people oppose such strikes at home.

But public opinion would be different if Washington were to reveal the details of its "secret war" on terror, policy director at Just Foreign Policy Robert Naiman told RT.

According to Naiman, "American people aren't getting the information they would need to come to an informed decision" on whether the foreign drone strike program is legal and constitutional.

The Obama administration is refusing to disclose even the most basic information, like "who are we fighting, how many people have been killed, how many civilians have been killed, what's a legal justification," he stressed.

Adding to the clampdown on information and crackdown on whistleblowers, this secrecy "makes it much harder for the media to do their jobs" in bringing a complete picture of the drone warfare to the people, Naiman believes.
You can share this story on social media: