U.S. Defence Secretary reviews Afghan security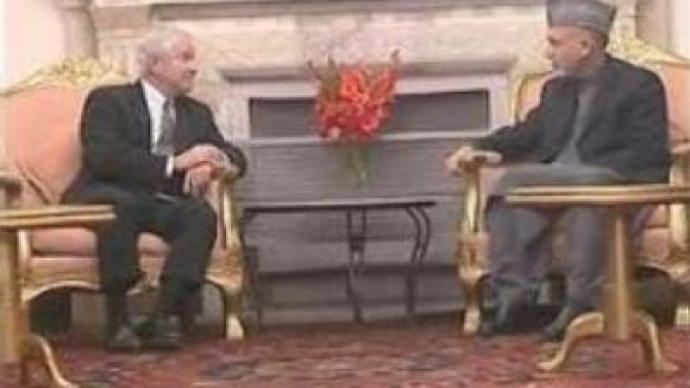 The U.S. Secretary of Defense, Robert Gates, has met with commanders at his country's main base in Afghanistan. He is on the second day of a visit there, which has focused on ways to stop Taliban militants.
This comes as NATO-led troops and Afghan forces claim to have arrested a senior Taliban commander and member of a Sunni Islamic fundamentalist movement, in a raid in the Southern Afghanistan. In Kabul on Tuesday, Robert Gates held talks with the President of Afghanistan, Hamid Karzai, and was told by U.S. commanders that militant attacks from Pakistan into Afghanistan have greatly increased. Last year violence in Afghanistan reached its bloodiest level since U.S.-led forces overthrew the Taliban in 2001. While fighting may have tailed off during the winter, both the U.S. and NATO say they are expecting a renewed Taliban offensive in the spring, something the Afghani President says he is well prepared for.
"I can tell you with confidence that the Afghan people and our international partners, the US and NATO, are ready to give terrorism a serious blow when they come. We want them to come and get defeated so that we all can rest and enjoy our lives all over the world,"
Karzai stated. The U.S. currently has over 20,000 troops stationed in Afghanistan, but Gates said he would consider sending more if the need arises.
"I think it is important for us to take the initiative in dealing with the security threats, that we act together on this, and if the commanders in the field believe that more forces are required to do this then I would strongly recommend that to the President,"
Robert Gates stated.
You can share this story on social media: