Rumming battle: Cuba won't quit in booze war with US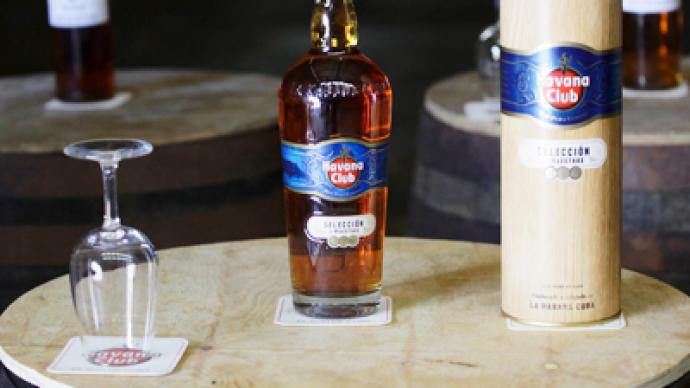 Cuba accuses Washington of expropriating its national world famous Havana Club rum brand. In a latest step in the 50-plus-year embargo war against the island, the US court would not allow the Cubaexport company to renew registration of the trademark.
The Cuban Foreign Ministry has warned the US government that it will bear sole responsibility for the "expropriation" of the Havana Club brand from its "legitimate" holder.The latest blow in Cubaexport's effort to get its trademark back was delivered by the US Supreme Court, which denied it even the possibility of defending its right to renew registration.The trademark was registered at the US Patent and Trademarks Office in 1976, but was blocked in 2006.The court referred to the 1998 act that forbids the renewal of the registration of trademarks that could be affiliated to property nationalized by the Cuban government.The history of the famous, or infamous, rum is reminiscent of a never-ending Latino soap opera. The Havana Club trademark was first registered in the 1930s by the Arechabala family. Their property was nationalized by the communist authorities after the revolution of 1959, when Fidel Castro came to power. That was the pretext for the US to stop Cuban rum distribution, along with other staple Cuban exports such as cigars.Since 1994, rum has been produced by the Havana Club International company, shared by French liquor giant Pernod Ricard and the Cuban government's Cubaexport. However the Bermuda-based Bacardi company registered the same trademark after buying it from the ex-owners when they emigrated from Cuba. Since then it has produced rum in the US protectorate of Puerto Rico and sold it in the US.The two alcohol monsters waged a multimillion dollar legal war over the Havana Club trademark for more than 17 years, with Pernod Ricard recently losing the battle.Pernod sued Bacardi, triggering more than a decade of courtroom battles. Bacardi lobbied successfully in Washington for the so-called Bacardi Bill to breeze through.The bill ultimately prevented Pernod from US registration of the Havana Club trademark. A Pernod Ricard win was the last hope for the Cuban government to renew exports to the US.The French company withdrew and announced it will create a new label in a move to tap the US rum market should Washington lifts its embargo on Cuban goods.The new brand, Havanista, will come from the same Cuban distilleries that produce Havana Club for countries other than the US.The US market makes up 40 per cent of the world's rum sales.The Obama administration has loosened travel restrictions with Cuba under the latter's new president, Raul Castro. The new Cuban government has recently approved economic overhauls, but the US's five-decade-old embargo remains in force.