US private contractor to take over UK search and rescue ops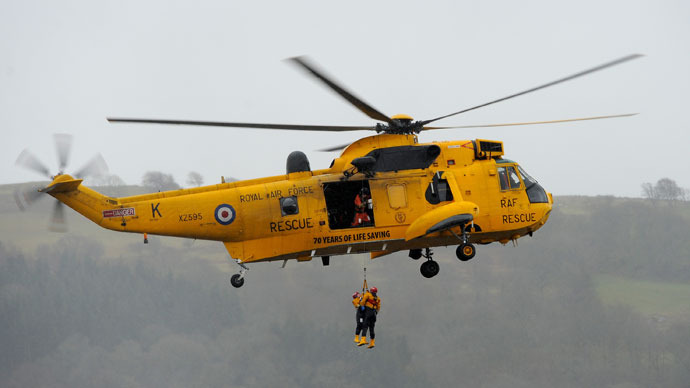 A US private contractor has secured the contract to run Britain's search and rescue services, ousting Royal military rescue service. Critics are concerned that putting lives in the hands of commerce may have negative consequences.
Based in Texas, Bristow Group will start providing security and rescue services on UK soil and under the contract will remain there until 2026. Thus, it is drawing the final curtain on 40 years of the iconic yellow Sea King helicopter, and 70 years of Royal Air Force and Royal Navy rescue service. 

The UK government insists the 90-strong fleet of aging Sea King helicopters is approaching the end of its working life anyway and it is time to find a replacement. It could cost as much as £1.6 billion, according to the Telegraph.
But while officials insist that faster and more modern helicopters, which the Texas-based firm has, will be able to provide a better service, civilians and experts argue that being in the hands of commerce rather than the military could potentially have negative consequences.
"There is still concern about the possible risk to life by the change. I would like the process halted. I am disturbed there has been no proper consultation," chair of the Commons transport select committee, Louise Ellman, told the Guardian. 

Amongst those who have protested the move are doctors, mountain-rescue volunteers, and workers in the maritime industry and people who have been rescued, saying that the US helicopter rescue service will not be as effective as that provided by RAF and Royal Navy pilots and crew.

Some fear that the new service will include fewer and possibly smaller helicopters that operate over shorter ranges.
There have been concerns that the new contractor will ban pilots from flying in harsh weather conditions, particularly in mountainous areas, thus, possibly leaving people in danger.

Besides that there has been unease about how effective civilian pilots will be in the rescue role compared with their military counterparts. Some experts say the US contractor might fail to invest in live training exercises with volunteer rescue teams in order to protect profits and helicopters.

Although the Sea Kings were due to be phased out around 2016, there are fears that numerous jobs for trained personnel could be lost as a result of the privatization.

The Sea King will be replaced by the twin-engined Agusta Westland AW1 89, and the Sikorsky S-92. The Sikorsky S-92 fell subject to scrutiny in 2011, after a number of S-92 pilots reported struggling with their health after spending relatively short periods of time at the controls of the helicopter, according to Dagbladet, a Norwegian tabloid.

Some 22 of the new helicopters will operate from 10 locations around Britain, and all bases will operate 24 hours a day.

Four S92s will be based in Scotland, while the other six will be based in England and Wales. Ten AW189s will operate, from Hampshire and Glasgow, while new bases will be established, South Wales, Inverness, and Kent.
Bristow currently operates in parts of Europe, Asia, North America, Australia and Africa, and has been a service provider for the oil and gas industry, including taking control of rescue operations.

You can share this story on social media: