US Senate set to ban deals with Russian arms exporter over Syria
Published time: 1 Dec, 2012 14:10
Edited time: 1 Dec, 2012 18:10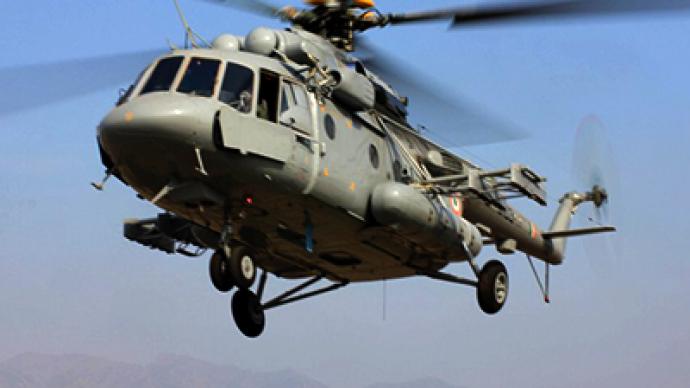 The US Senate has approved a measure to prohibit the Pentagon from purchasing from Russia's main arms exporter Rosoboronexport. The US's stance that the company is supplying Syria with weapons was the reason for its decision.
The amendment to the National Defense Authorization Act proposed by Senator John Cornyn bars the Pentagon from spending money in 2013 on contracts with Rosoboronexport, including the purchase of more helicopters to be used in Afghanistan.
Yet the amendment clearly states that the ban can be overturned if "the Secretary of Defense determines that such a waiver is in the national security interests of the United States with respect to the capacity of the Afghan National Security Forces."
In the past, the US has purchased helicopters from Rosoboronexport for the Afghan security forces, as part of a $367.5 million deal with the US signed in May 2011 for the delivery of 21 Mi-17s helicopters.
Rosoboronexport manages most of Russia's weapons sales by cooperating with more than 60 countries and accounts for more than 90 per cent of annual arms sales. 
Russia's Deputy Foreign Minister Sergey Ryabkov said the project to purchase helicopters from Rosoboronexport has always been a positive one and Russia"does not wish to see this collaboration damaged as a result of ill-conceived decisions and a bad state of mind of US Senators."

The amendment needs to be approved by the Congress. The entire National Defense Authorization Act will need to be signed by the US President Barack Obama, but he threatened to veto it for reasons unrelated to the Russian export firm, Foreign Policy reported.

US Senators argued that Russia has supplied more than $1 billion worth of arms to the Syrian government since the unrest in Syria began in March 2011.

Russia has maintained its stance that it only supplied weapons to Syria strictly based on the existing agreements and solely for defense purposes in an event of an attack from external forces.

Russia's Foreign Minister Sergey Lavrov clarified Russia's supply of arms to Syria back in July. He stated that Russia is complying with international law and is merely fulfilling previous contractual obligations with Syria related to air-defense systems signed in 2008.
"We are sending no battleships to Syria. We have been saying publicly that we have been implementing contracts under which we have to supply arms to Syria. Those armaments are entirely defensive and they mostly consist of air defense systems, which cannot be used against the population and can only be used to respond to outside aggression," Lavrov told RT.

Russia supplies Syria "only with something that Syria would need in the event of an armed attack on it from outside," the minister added. "We don't supply Syria or anyone else with things that are used to fight against peaceful demonstrators, unlike the United States, which regularly supplies that region with such special equipment," he said
The General Director Sergey Chemezov of Rosoboronexport confirmed that Russia will fully honor its obligations before Syria unless there are international sanctions imposed on Moscow by the UN.
"There are no sanctions whatsoever regarding Syria. If international sanctions are imposed by the UN Security Council, everything will change. And if there are no sanctions, why should we refuse to cooperate with this country? This is business after all," Chemezov told Interfax.
Fulfilling all earlier signed contracts is a "litmus test" for other nations interested in purchasing Russian weapons that demonstrates that Russia is a stable and predictable partner, he added.
Previously, the US halted deals with Rosoboronexport from 2006 to 2010 because of concerns that the company was selling arms to Iran. The ban was lifted in 2010 after Russia backed UN's Security Council sanctions on Iran.