U.S. backs move to negotiate with Syria and Iran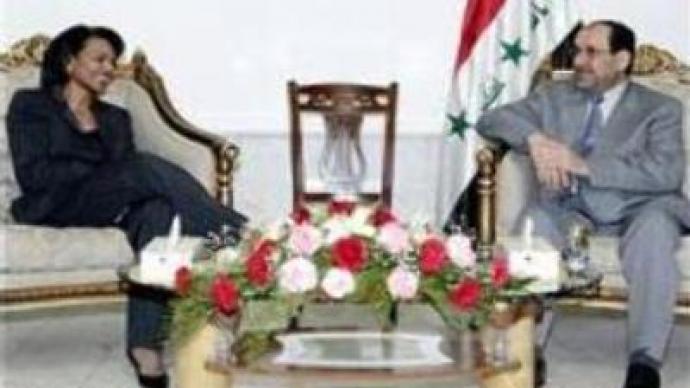 The Iraqi government plans to invite Syria and Iran to a neighbours meeting on stabilising Iraq. The U.S. supports the initiative, even though in the past it had objected to including the two countries which it brands sponsors of terrorism.
The Iraqi government plans to hold two rounds of talks involving its close neighbours and the five permanent members of the UN Security Council. The first meeting is expected to draw ambassadors in March and the second could take place at the ministerial level in April. Washington says it fully supports inviting Syria and Iran to participate.
'The government of Iraq is preparing for an expanded members meeting first at the sub-ministerial level, which will take place in Baghdad in the first half of March. I would note that the Iraqi government has invited all of its neighbours, including Syria and Iran, to attend both of these regional meetings. We hope that all governments will seize this opportunity to improve relations with Iraq and to work for peace and stability in the region,'
the U.S. Secretary of State, Condoleezza Rice, stated. The move is a change in the approach by the Bush administration, which had resisted calls by members of Congress to include Iran and Syria in such talks. It accuses both countries of fomenting violence in Iraq and says Iran supplies weapons and Syria harbours anti-Iraqi government forces. Russia has repeatedly said Iraq's neighbours should be invovled in talks on bringing stability to the region. Ms Rice's announcement came as Washington was engaged in a confrontation with Tehran over its nuclear programme. The U.S. is pushing to expand sanctions after the UN Security Council deadline for Iran to suspend uranium enrichment expired.
'The Iraqi government wants to find a way to cool the tension between the United States and Iran. They see themselves as caught in the middle of that cross-fire and they want to find a way to keep their two most important backers from going to war with each other in Baghdad,'
Bruce Reidel, Middle East Expert, commented.Meanwhile, the United States has been building up navy forces in the Persian Gulf, in what is seen as a warning to Tehran. It comes amid a confrontation with Iran, which defied the UN deadline to stop enriching uranium. A nuclear-powered warship arrived with a battle group in the Sea of Oman earlier, joining another one already in the region. It is the first time the U.S. has had two aircraft carriers there since the invasion of Iraq in 2003. The US Defense Secretary said the move was to show the country's commitment in the region and was not in preparation for possible military action against Tehran.
You can share this story on social media: