US army fights for recruits as AWOL rate rises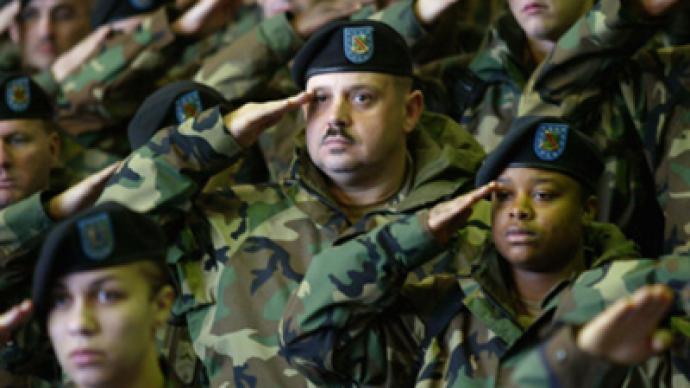 As America celebrates Veteran's Day, the number of its troops heading to overseas wars is on the rise. But so is the number of soldiers refusing to fight. The desertion rate among US servicemen has shot up three-fold.
Sergeant Matthis Chiroux is an Iraq veteran who could not take any more war, and says others do not have to either."There are vets who are anti-military, I'm one of them. There are vets that are anti-American because of their experience in the military and I'm one of them," Chiroux says.Now he's taking action to bring about change, as a college student and activist."I enlisted when I was 18. I was homeless, living in a tent, selling psychedelic mushrooms to make money to survive. I was set up by the police department and was given the choice to enlist or face prosecution," Chiroux recalls."When I came to the conclusion that we hadn't just made a mistake but were and continued to be in violation of international law, it was imperative that I not deploy to Iraq."Though Chiroux took the military head on, resistance – even if more quiet – is becoming more common. Since 2004, the number of soldiers who have gone AWOL in the US army has gone up 234 per cent, according to an army report."If you get to the point where you feel like you can't do it anymore you have no option you go to either self harm or escape I would say it's linked to Afghanistan and Iraq and repeat deployments abuse within the military," Chiroux says.Realities perhaps not told to young people when they enlist.
Recruiting fresh meat
At half-time of an NBA basketball game, the West Point Military Academy drill team performs, because it is US-Army-sponsored "Military Appreciation Night". It is also, "Student Rewards Night," where students as young as grade school have been given free tickets to attend. So it is also a recruiting opportunity."They use a lot of underhand tactics to recruit youths in the military," Chiroux says.A souped-up Humvee welcomes kids from a poor New York suburb off their bus, while inside GI Johnny draws a crowd and the "future soldier trainer" game, as it is called, draws a new recruit, recently enlisted."I'm a future soldier," he declared proudly, believing that the game is "pretty good, it gets you ready, prepares you for the battle. I mean everybody in the beginning gets scared, but I believe I can get used to it", though he also admits that he has never fired a real gun.But Chiroux says nothing this young man knows now will prepare him: "They say you'll travel the world and meet interesting people, they leave out the torture. [They say] 'If you're in high school and think you can't go to college, just sign up and we'll help you when you get out.'"These promises are sold. But something is missing."They never address the military – they say you know what it's like you've played some 'shoot 'em up' game," Chiroux says.But war is not a game. And the US military experience does not fit into a half-time army display.
You can share this story on social media: