US aircraft carrier extends stay in Mediterranean amidst Ukraine tensions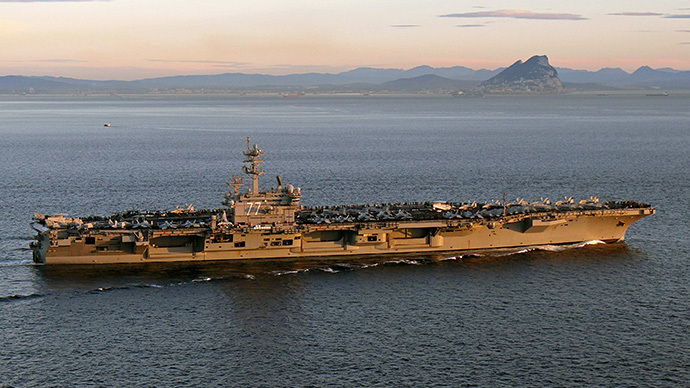 The aircraft carrier the USS George H.W. Bush and its group will remain in in the Mediterranean Sea for a few more days than planned "to reassure US allies" worried about the crisis in Ukraine, the Pentagon says.
The Pentagon has taken a number of steps to bolster its forces in Eastern Europe, which it says is to reassure its allies over the crisis in Ukraine and the Crimean peninsula where Russia's Black Sea fleet is based.
"This is a few more days than the original plan was. There're two reasons. One is to conduct these additional training opportunities, and frankly because a lot of what we're doing there now is an effort to reassure our allies," said Colonel Steven Warren, a Pentagon spokesman.
He added that he did not rule out that USS George Bush might remain in the Mediterranean a bit longer.
The US has also beefed up its training with the Polish air force and is providing more aircraft for the NATO air policing mission in the Baltics.
12 extra F-16s have arrived in Poland as well as a C-130 and C-17 transport planes, including 150 personnel.
US officials said Thursday that Ukraine had requested lethal and non-lethal military help from the US but for the moment Washington had agreed to send only military food rations.
Last week the USS Truxton, a destroyer, entered the Black sea for what the Pentagon said were previously planned exercises with the Bulgarian and Romanian navies.
The military deployments in Europe come as Crimea is due to hold a referendum on whether it wants to remain part of Ukraine or join Russia on Sunday. The peninsula, which has a majority ethnic Russian population, is widely expected to secede.
The carrier group consists of seventeen other ships and three submarines. The USS George HW Bush is carrying 90 aircraft including helicopters of various types.
The super carrier was first reported to be off the Greek coast on March 4 2014 and left the Naval Station Norfolk base on 15 February.
You can share this story on social media: