$US 60 billion energy contract signed in Moscow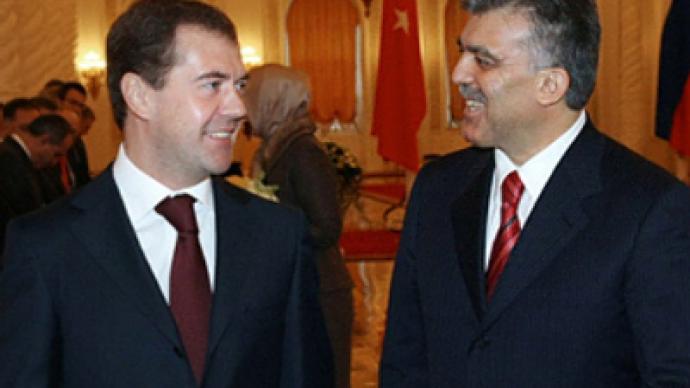 Russia and Turkey have signed a 15-year energy contract worth $US 60 billion. The agreements were reached while Turkish President Abdullah Gul is in Moscow for a four day official visit.
One of Gul's main goals is to talk over energy projects that would boost the country's role in the region.
Russian Energy Minister Sergey Shmatko says the two countries have also almost agreed to build four reactors for a potential nuclear plant in Turkey, which could cost $US 18-20 billion. Each reactor would have 1200 MW of power. The project is planned to be finished within six years.
The Russian side is now waiting until all papers go through the Turkish government, which is expected to be in summer 2009. After the paper work is done the construction will begin.
Medvedev and Gul adopt partnership declaration
On Friday, presidents Gul and Medvedev signed a joint declaration to promote ties and enhance bilateral friendship and partnership.
"This is a strategic document laying out the achievements of bilateral cooperation and setting tasks for enhancing it further," a source in the Kremlin said earlier.
*Trade turnover between Russia and Turkey has soared 35-fold over the past decade, and reached $US 34 billion in 2008.
*The countries plan to use the rouble and the Turkish lira instead of the U.S. dollar and the euro in mutual trade.
In the declaration, the two presidents urged action on settling frozen conflicts that could destabilise the situation in the South Caucasus.
They also vowed to move quicker in settling issues related to defence cooperation.
"Reaching agreements on burning issues in defence cooperation between the two countries will open up more opportunities for broader cooperation in the sphere," the two presidents said in the declaration.
The countries were rivals for regional supremacy for centuries with a long history of bloody wars. Now, however, they have realised that joining forces is of mutual interest. Abdullah Gul has called Russia an important neighbouring country at the top of Turkey's foreign trade list.
You can share this story on social media: