Ukraine quits CIS, sets visa regime with Russia, wants Crimea as 'demilitarized zone'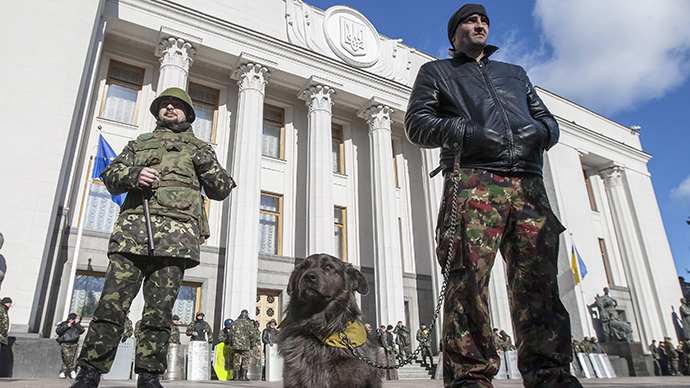 The interim government in Kiev says Ukraine will leave the commonwealth of post-Soviet states and force Russians to apply for entry visas, and plans to ask the United Nations to make Crimea a demilitarized zone.
The raft of measures – a response to Russia's incorporation of Crimea into its territory following Sunday's referendum – was announced by National Security and Defense Council chief Andrey Parubiy during a press briefing in Kiev.
The Commonwealth of Independent States (CIS) was founded to maintain economic and security links between former Soviet republics when they became independent states in 1991. It initially included the 12 non-Baltic countries, though Georgia quit after the Ossetian conflict in 2008.
This year, Ukraine was assigned the rotating leadership of the CIS – which is more akin to the formal British Commonwealth than the fully-fledged economic partnership of the EU – but now says it will not carry out its duties.
"We have decided not only to give up the presidency, but to launch the process of quitting the union altogether," Parubiy told journalists.
[UPDATE: On Thursday, Permanent Representative of Ukraine to the CIS, Ivan Bunechko, said the bill to ratify Ukraine's departure from the CIS has to be approved by the Ukrainian Parliament (Verkhovna Rada)."The bill has been introduced, but the Rada has yet to approve it," said Bunechko.]
Parubiy said that Ukraine will ask the United Nations to declare Crimea – which Kiev says was occupied by Russian troops following the ousting of Viktor Yanukovich – a demilitarized zone.
UN-sanctioned demilitarized zones exist between Kosovo and Serbia, North and South Korea, and in areas surrounding Israel.
Ukraine will offer those who want to leave Crimea – where 96 percent of the people voted to join Russia – an opportunity to do so.
"The cabinet has been instructed to devise an evacuation plan for those who do not want to stay in the occupied territories," said Parubiy.
Ukraine will also introduce a visa regime for Russians, who have not only been allowed to move freely between Ukraine and their homeland since the collapse of the Soviet Union, but could do so with only their internal identification documents.
"In the coming hours we will introduce a mechanism so that only Russians with travel passports can enter the country, until such a moment when formal visas can be issued," said Parubiy, who stated that his department had issued the Foreign Ministry with "requests to implement these measures as soon as is feasible."
The Russian Foreign Ministry has said that it will not issue a visa regime of its own until it learns what changes have been proposed by Kiev, sources in the Foreign Ministry informed RIA Novosti.
Ukrainian border guards have turned back Russian citizens in recent weeks due to ostensible concerns that they will participate in anti-government protests in the east of the country. Parubiy also claimed that Russia was contemplating a "full-scale invasion" of Russian-speaking regions.
[UPDATE: On Thursday, Ukraine's coup-appointed prime minister, Arseny Yatsenuk, said the authorities are in no hurry to impose a visa regime on Russia. "Such an initiative by Ukraine is most unlikely to be effective in terms of influencing Russia," he said, arriving for an EU summit in Brussels, adding that the measure could negatively affect Ukrainians living in the Russian-speaking east of the country.]
You can share this story on social media: